Palestine
Israel declares part of al-Quds military zone: Local leader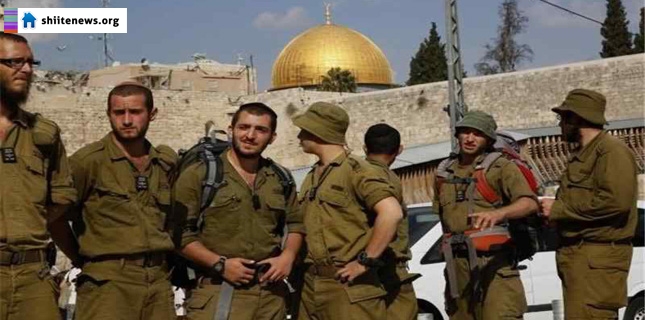 Israel has announced part of East al-Quds (Jerusalem) as a military zone in the occupied West Bank, a local leader says.
According to Bassam Bahr on Monday, the head of the committee to defend land and resist settlements, the Israeli army declared part of the desert area a "closed military zone"prohibiting the Palestinian people from entering.
The area borders al-Khalil (Hebron) from the south, the Dead Sea from the east, and covers lands stretching from eastern Anata to Bethlehem in the central West Bank.
The Palestinian official further noted that the Palestinian Authority (PA) had previously announced plans to establish an airport and a natural preserve in the area.
The Israeli "occupation preempted any Palestinian steps," Bahr noted.
He also slammed the move as part of Tel Aviv's expansionist policies, adding that Israel is in pursuit of "Judaization" of the occupied West Bank.
An Israeli military spokesman who was reached by Ma'an News Agency said he did not have any information on the case.
Israeli media also reported that Tel Aviv has grabbed about four square-kilometers of Palestinian land near the illegal settlements of Kedumim, Vered Yericho, Neveh Tzuf and Emanuel.
According to the reports, Tel Aviv is preparing for implementation of 18 residential projects in these areas, with more than 99 percent of the occupied land being allocated to settlements.
The regime is facing global condemnation over settlement constructions in the occupied lands.
On Sunday, Israeli officials approved the construction of 64 new settler units in the illegal Ramot settlement.
Saeb Erekat, a senior Palestinian official, reacted to the announcement later saying Tel Aviv's expansionist policies make a strong case for the Palestinians to sue the regime at the International Criminal Court (ICC).
The presence and continued expansion of Israeli settlements in occupied Palestine has created a major obstacle for the efforts to establish peace in the Middle East.
More than half a million Israelis live in over 120 illegal settlements built since Israel's occupation of the Palestinian territories of the West Bank and East al-Quds in 1967.
The UN and most countries regard the Israeli settlements as illegal because the territories were captured by Israel in a war in 1967 and are hence subject to the Geneva Conventions, which forbids construction on occupied lands.