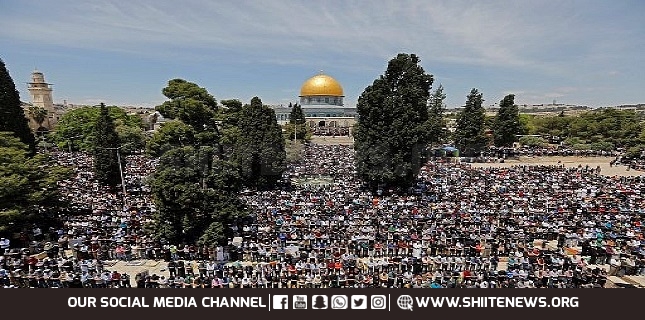 Despite Israeli restrictions, thousands of Palestinian worshippers managed to perform the first Friday prayers of the Muslim holy month of Ramadan in the Al-Aqsa Mosque.
Sheikh Azzam Al-Khatib, the director-general of the Islamic Endowments Department in Jerusalem, said that around 70,000 Palestinians performed the Friday prayer in the mosque.
The Israeli authorities prevented Palestinians from the West Bank to reach the mosque with the exception of few thousand who received the coronavirus vaccine, According to the Anadolu Agency.
The Palestinians in Gaza were also banned from exiting Gaza to reach the Al-Aqsa Mosque.
Meanwhile, the grand preacher of Al-Aqsa Mosque, Sheikh Ekrima Sabri, hailed the Palestinians for coming to the mosque.
"Your march to the Al-Aqsa Mosque is a reminder to all Muslims worldwide that Al-Aqsa Mosque is in captivity," Ekrima said.
He also called on the Palestinians to keep their presence in the mosque.
Last year in Ramadan, the Islamic Endowments Department in Jerusalem al Quds suspended the prayers in Al-Aqsa Mosque amid the coronavirus outbreak.
To stem the spread of the virus this year, it demanded the worshippers to abide by health measures including wearing masks and keeping physical distance from each other.