Palestine
Israeli jailers storm prisoners' cells in Rimon jail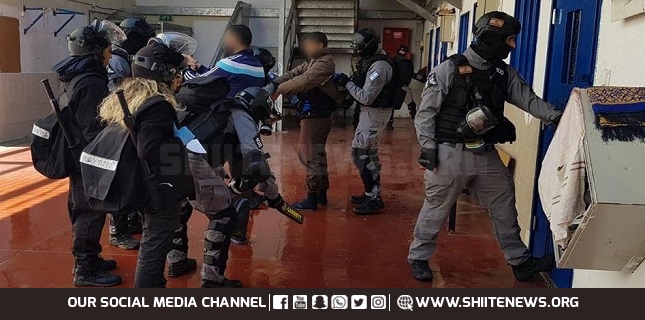 Israeli special forces stormed on Monday Palestinian prisoners' cells in Rimon prison and conducted thorough searches.
The Palestinian Prisoner Society reported in a statement that the prison administration had recently escalated raids on prison cells, which are the most visible instrument of oppression and abuse against Palestinian prisoners.
The Israeli prisons have witnessed the most violent raids against Palestinian prisoners' cells since the beginning of last year and dozens of prisoners were injured in the process.
The Israel prison service's (IPS) special forces, consisting mainly of the Metsada, Dror, and Yamaz units, stormed on Sunday the section allocated for minors in Ofer prison and transferred them and their representatives to ward 18 for inspection.
The number of Palestinian minors in Israeli prisons is about 155 held in the prisons of Ofer, Damon and Megiddo.
The IPS practices all kinds of psychological and physical torture against the Palestinian prisoners and follows a policy of medical negligence.
The number of Palestinian prisoners and detainees in the Israeli occupation prisons is about 4,700, including 41 female prisoners and about 160 children.
The number of administrative detainees, held without trial or charge, exceeds 400 while the number of sick prisoners has reached nearly 700. Almost half of them suffer from chronic diseases that need continuous treatment and at least 10 of them have cancer and tumors of varying degrees.