Palestine
UAE normalization with Israel poisonous stab in Palestinians' back: Hamas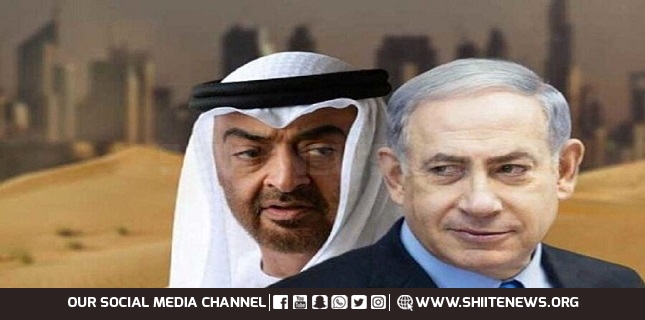 The Palestinian Islamic Resistance Movement, Hamas, has severely censured attempts by the United Arab Emirates to normalize relations with the Israeli regime, warning that such efforts amount to a "poisonous stab" in the back of the Palestinian nation.
On Monday, Hamas spokesman Abdel-Latif al-Qanoo called for a unified Arab position in order to stop all forms of normalization and to end what he described as "cacophonous voices" out of the UAE, especially after it was revealed that a number of Emirati officials have participated in several meetings on normalization with the Tel Aviv regime.
Qanoo also lambasted the presence of UAE's Minister of State for Foreign Affairs Anwar Gargash in the annual American Jewish Committee Virtual Global Forum 2020, which opened on Sunday and will run through June 18, as well as an op-ed written by Emirati Ambassador to the US Yousef al-Otaiba in Hebrew-language Yedioth Ahronoth daily newspaper, which promoted normalization with Israel.
"Normalization is equal to a poisonous stab in the back of the Palestinian nation and their enormous sacrifices. This [bid by the UAE] is also a dangerous turn in the course of efforts made to normalize ties with the Zionist regime," the top Hamas official said.
Qanoo stressed that normalization with the Israeli regime "is one of the most serious issues in [US President Donald Trump's so-called] deal of the century, which aims to liquidate the Palestinian issue."
Trump's so-called peace plan on the decades-old Israeli-Palestinian conflict envisions Jerusalem al-Quds as "Israel's undivided capital" and allows the Tel Aviv regime to annex settlements in the occupied West Bank and the Jordan Valley. The plan also denies Palestinian refugees the right of return to their homeland, among other controversial terms.
The plan was immediately rejected by all Palestinians. It has triggered waves of protest rallies around the globe as well.
Otaiba was among three Arab ambassadors who attended Trump's January unveiling of his Middle East plan.
Back in May, Yemen Scholars Association, in a statement, condemned attempts by a number of Arab states to normalize relations with the Israeli regime, holding Saudi Arabia and the United Arab Emirates responsible for any negative repercussions of such bids.
The group reiterated the Islamic nature of al-Aqsa Mosque and the Israeli-occupied city of Jerusalem al-Quds, emphasizing that Zionists are neither welcome there nor have the right to occupy even an iota of the places.
It stressed the need for solid support for resistance movements in Palestine and Lebanon in the face of the Zionist threat.
The association then called for the issuance of a fatwa (religious decree), that would prohibit and condemn rapprochement with the Zionists, conclusion of deals with their criminal leaders and participation in bilateral conferences.