Palestine
Senior Hamas official's health deteriorating in Saudi detention: NGO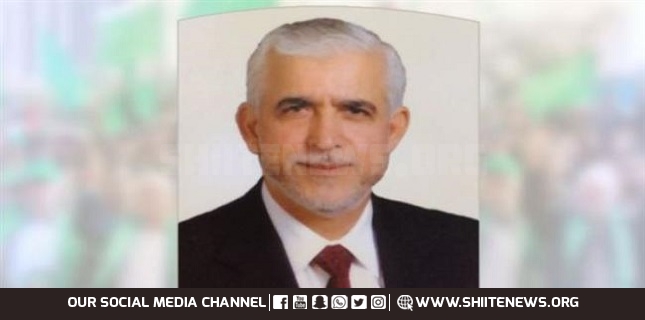 The health condition of a high-ranking official of the Palestinian Islamic Resistance Movement, Hamas, who is currently being held at a detention center in Saudi Arabia, has reportedly deteriorated prompting his family, his group and Amnesty International to call on King Salman to order his immediate release.
The Prisoners of Conscience, an independent nongovernmental organization advocating human rights in Saudi Arabia, announced in a post on its official Twitter pagethat Hani, the son of the 81-year-old Mohammed al-Khudari, has been moved to his father's prison cell amid the latter's signs of worsening health and his inability to move.
Mai al-Khudari, in press remarks to the Palestinian Information Center on April 15, called on the Saudi monarch and Crown Prince Mohammed bin Salman to swiftly free his father and brother, and send them back to Palestine.
"My father and brother are innocent, and we call on Saudi Arabia to take quick steps to pardon them and other Palestinians who were arrested with no guilt," she said.
She also expressed her family's great concern over the health condition and the lives of her brother, especially in light of the spread of the highly contagious new coronavirus.
Back on April 4, Amnesty International called on Saudi Arabia's King Salman to order the immediate release of the distinguished Hamas figure and his son, citing his poor health condition amid the coronavirus pandemic.
"Given the current COVID-19 pandemic and Dr. Mohammed al-Khudari's poor health, I urge you to secure his release without delay. I also call on you to ensure these unfounded charges against Dr. Mohammed al-Khudari and Dr. Hani al-Khudari are dropped and that they are released," Amnesty said in a letter to the Saudi monarch at the time.
The human rights group further noted that Dr. Khudari and his son were brought before the Specialized Criminal Court (SCC) in the capital Riyadh on March 8 as part of a mass trial of 68 individuals on trumped-up charges under the so-called counter-terror law.
On March 22, Ismail Haniyeh, the head of the Hamas political bureau, in a letter addressed to the Saudi monarch pleaded with him to make a quick decision and order the freedom of Palestinian detainees in Saudi prisons.
"In light of the pandemic of the novel coronavirus that has spread across the globe, due to fears for the lives of our honorable brethren and given all humanitarian and religious considerations … the release of the Palestinians becomes a humanitarian and national necessity. We are all confident that His Majesty will not hesitate to do so," the letter read.
Dr. Khudari and his son Hani were arbitrarily arrested on April 4, 2019 and remained in detention without charges until March 8 this year.
Khudari has been living in Saudi Arabia for over 30 years, and represented Hamas between mid-1990s and 2003 in Saudi Arabia.
His son is a also university professor and has no political affiliation. Both men have had no legal representation since their arrest.
'Palestinians held in Saudi jails denied family visits'
Meanwhile, Mohammed Nazzal, a member of the Hamas political bureau, wrote on his Twitter page that 65 Palestinian detainees in Saudi jails were denied family visits during Eid al-Fitr holiday, which marked the end of the holy Muslim fasting month of Ramadan.
He added that each Palestinian prisoner was allowed to talk over the phone with his family for only five minutes.