Palestine
Israel's election: Life and Death game for Netanyahu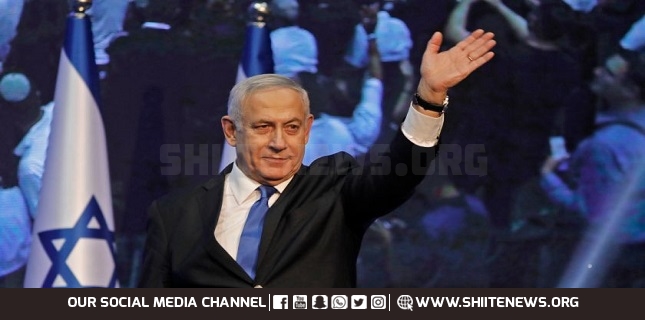 Exit polls suggest the result of Israel's general election is too close to call as Benjamin Netanyahu fights for political survival, and exit polls indicate that his right-wing bloc would be unable to secure the 61-seat majority needed to form a government.
According to exit polls, Benjamin Netanyahu has fallen short of securing a parliamentary majority with his hard-right allies in Israel's second election this year.
The apparent set back dealt a devastating blow to the embattled Netanyahu who is fighting for a fifth term in office.
Netanyahu and his Likud party had sought to secure a majority with his allies to secure immunity from an expected indictment on corruption charges. There are four separate corruption charges being made against Netanyahu.
The Israeli regime was forced back into fresh elections just five months after the April polls when Netanyahu failed to form a coalition government.
Netanyahu's former defense minister Avigdor Lieberman, the head of right-wing Yisrael Beiteinu Party, in the eleventh hour, refused to join forces with the Likud meaning the prime minister could not nudge past a 61-seat majority. The exit polls suggest there may be a similar deadlock this time, with no political party winning a clear majority.
The second parliamentary election in Israel in the last 6 months was held on 17 September with Benjamin Netanyahu's political future being at stake.
There is no doubt that the Israeli regime is going through a tough period right now.
Netanyahu's cabinet collapsed in early 2019, when former defense minister Avigdor Lieberman, and his right-wing Yisrael Beiteinu Party, decided to withdraw their support from Netanyahu and leave the cabinet. The Israeli prime minister had no choice but to go for early elections, which were held last April. Netanyahu's narrow victory in that election did not result in a coalition government because none of the main party leaders agreed to form a coalition with him.
Both Benjamin Netanyahu and his main challenger in the elections, Benny Gantz, back annexation of Palestinian lands. Although Netanyahu has benefited more than Gantz from Israel's foreign policy and projecting a tough guy image. This is why he ordered airstrikes on Gaza, attacks on Iraq's Popular Mobilization Forces (PMF), also known as Hashd al-Shaabi, various attacks and airstrikes on Syria, and drone attacks on Lebanon's Hezbollah movement. All these short wars were meant to enhance Netanyahu's tough leader image, but many analysts are now saying the strategy backfired on him.
Mohammad Ali Mohtadi, a political analyst and expert on West Asia says: "Netanyahu has tried to confront the Islamic Resistance axis in the past few months, principally to increase his own popularity at home, with an eye on Israeli general elections. But this strategy has backfired on Netanyahu, with many critics in Israel calling him a warmonger and an extremist, and on the other hand, the Lebanese Hezbollah's solid response to Israeli adventurism exposed the Israeli Army's weakness in certain respects."
According to Mohtadi, if Benjamin Netanyahu fails to win this election outright, then serious corruption charges against him and his wife will play out in Israeli courts and there is a very real chance that Netanyahu might find himself in prison, following on the footsteps of another former Israeli prime minister, Ehud Olmert, who was jailed because of corruption, after he stepped down as prime minister.
-Israel's election