Pakistan
Families turn down CTD charges against illegally held Shias as biased lies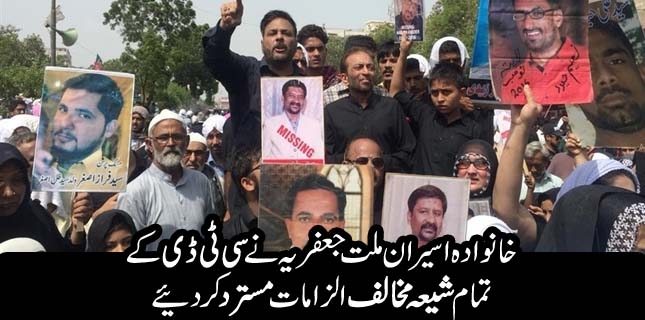 Families of missing Shia Muslims have said that many biased officials in Counter Terrorism Department of Sindh police, including Raja Umer Khatab are pro-takfiris biased officials who had a record of implicating innocent Shia Muslims in false cases to please the takfiri terrorist ringleaders of banned Sipah-e-Sahaba aka ASWJ.
They said that biased pro-terrorists CTD cops took Shia youths into undeclared custody after illegal raids and subjected to severe inhuman torture as per their past practice to force the detainees to give statements in accordance with what CTD's biased officials dictated them.
The families said that state authorities are well aware of the fact that peaceful Shia community has never remained involved in any anti-state or separatist activities nor they ever attacked security officials but unfortunately those who massacred schoolchildren at Army Public School, attacked ISI, GHQ, killed SSG personnel, drew global ire and dragged Pakistan to blacklist of FATF, are still darling of the biased officials.
The families lamented the unjustifiable support to terrorist of banned outfits and their clerics by state institutions and biased discriminatory selective and one-sided partial crackdown on innocent Shia community whereas terrorists are allowed to release.