Pakistan
24 Parachinar Shia students detained by Pakistani police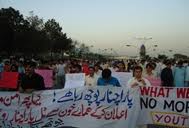 Despite security measures taken by the Government during the in-camera session of Pakistani Parliament, the Youth of Parachinar (YoP) activists on Friday reached the gates of the parliament to protest against the continued blockade and siege of Upper Kurrum area by the American and Saudi-Wahabi's sponsored Taliban.
According to the Shiite News Correspondent, On the 23rd consecutive day of their protest, the activists brought out a rally from the National Press Club to the D Chowk to highlight their woes as the top civilian and military leadership was inside the Parliament House.
The aerial security spotted the young men gathering at D Chowk and told the men on ground about the mob build-up. But before the policemen could control them, the activists crossed the security wall and barbed wires at the chowk. The protesters managed to stage a brief sit-in before the main gate of the National Assembly.
Police rounded up 24 protesters and booked them under section 188. A spokesman for the Youth of Parachinar said the protest was held to attract the attention of decision-makers.
"The interior minister repeatedly said on the floor of the parliament that the Parachinar issue would be resolved within 24 hours, but his promise has not been honoured," said Hassan Jan. He said 50 activists managed to reach near the Parliament House.
The arrested persons were taken to the Secretariat police station. A senior police officer said directives to release them have been issued.
Back to top button