Pakistan
PTI MNA urges Pakistan govt to complete Iran-Pakistan gas pipeline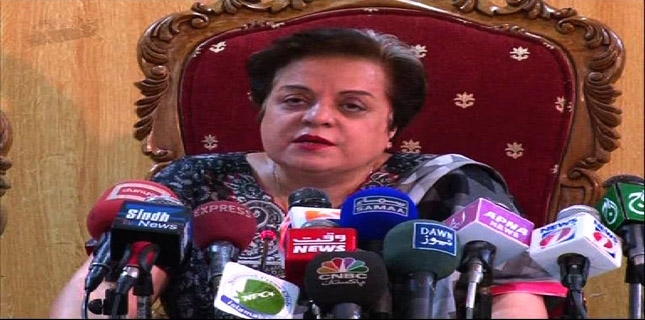 Shireen Mazari, a Member of Parliament who belongs to Pakistan Tehreek-e-Insaf has urged that Pakistan and Iran should work closely together because the two countries have a lot of mutual strategic interests.
She said in an interview that Iran is a very important neighbor of Pakistan and both countries should work closely for better ties. She said that it is good that Iranian Foreign Minister Mohammad Javad Zarif visited Pakistan. Mazari also Director General of the Strategic Studies Institute in Islamabad said Iran can play a major role for peace in Afghanistan.
"I think all countries that have borders with Afghanistan should be involved in peace making process and Pakistan should actually push for that," she noted
Earlier addressing a seminar titled 'United States' South Asian Policy: Challenges for Pakistan', organized by the Sustainable Development Policy Institute (SDPI), she said Pakistan had been sharing a very bizarre relationship with the US.
"We miscalculated our relationship with the US by considering the superpower as our strategic partner. This approach proved wrong at different moments in our history in historic events such as the containment of Communism, Cold War and presently containment of Chinese influence in the region," she said, adding that US strategic goals in the region were not in the interest of Pakistan.
"We need to revise our relationship with the US and create more space for our national interests," she further said, adding that Pakistan should strengthen its relationship with China and Iran without compromising its position.
"We need to have better ties with Iran and we should also complete the Iran-Pakistan gas pipeline project, we need to go on with it," she noted.
Islamabad Policy Research Institute (IPRI) President Ambassador Abdul Basit on the occasion said that mutual distrust, lack of convergence of interest, and lack of mutual economic interest were the major contributing factors behind the poor history of Pak-US relations.
"US interests in South Asia "are totally in contradiction to the national interests of Pakistan," and "we don't have any foreign policy to deal with the challenges," he added.
He further said that the negative approach and criticism of US towards the China-Pakistan Economic Corridor (CPEC) and One Belt, One Road Initiative (OBOR) was based on lame excuses. He said Pakistan wants good relations with Iran.
Centre for Global and Strategic Studies Vice President Major General (r) Hafiz Masroor Ahmed said Pakistan should not be compromising its own national interest and continue to strengthen its relations with China and Afghanistan.
Security analyst Imtiaz Gul said Pakistan-US relationship remains hostage to fundamental differences. "Pakistan needs to work out some fundamental changes in its foreign policy to normalize relations with the US," he added.
Pakistan should capitalize on its geostrategic importance and redefine its relationship with the US and India for regional peace and stability, he said.
Shakeel Ahmad, director of research uptake and business development at the SDPI said the world was experienced an era of unpredictability where the sequence of events had changed frequently and dramatically over the years.