Pakistan
Imamia Scouts Parade at mausoleum of founder of Pakistan on his birthday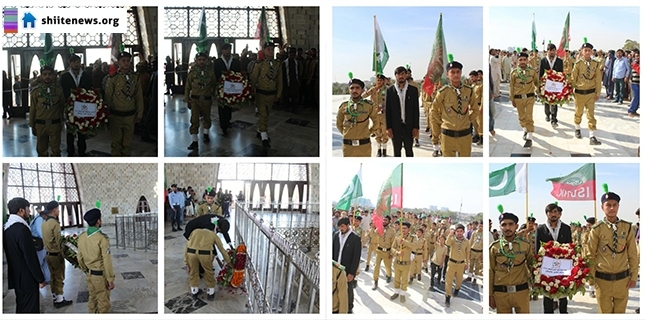 Imamia Students Organisation Karachi chapter president led the Imamia Scouts Parade, lay floral wreath at the grave and offer fateha at the mausoleum of great leader Mohammad Ali Jinnah, founder of Pakistan and father of the nation on his 141st birth anniversary.
Mohammad Yasin, president ISO Karachi chapter, accompanied by his team and Imamia Scouts paid homage to the great leader Mohammad Ali Jinnah by Scouts Parade and Salute.
The ISO Karachi president said that Pakistani nation suffered from multiple problems due to its deviation from the ideology of Mr. Jinnah who believed in unity, faith and discipline.
Jinnah was a Shia Muslim but a symbol of unity of all Muslims of the subcontinent who struggle under his leadership to get a free, independent, sovereign and separate homeland for Muslims of the subcontinent that is Pakistan.