Pakistan
Sindh Govt beefs up security for places of worship due to possible threat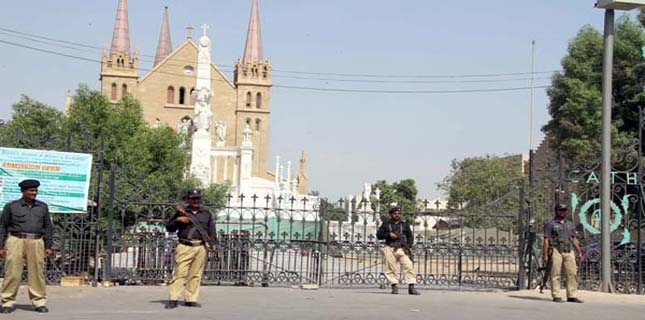 The Sindh government beefed up the security to protect worship places including those belonging to religious minorities across the province. Provincial home minister Sohail Anwar Siyal asked law enforcement agencies to tighten security arrangements in and around the worship places and other places of religious significance for the non-Muslims against any possible threat, in particular.
Officials said the minister also asked for increasing security for mosques, shrines, Imambargahs etc.
"Those who are adamant to destroy peace in the country are ulcerous and the entire nation is united against their nefarious designs," said the minister.
Officials said the worship places of the minorities were already being protected — though, with limited resources — yet the government's order to raise the bar might have a little impact on the existing arrangement.
"Police guards and other law enforcement agencies have been posted with the limited manpower and strength in the province. It requires more funds and manpower to raise the bar," said a senior official in the home ministry.
Nation is united against those adamant to destroy peace in country, says minister
Officials said a project costing Rs400 million was being launched to make safe temples, churches and other places of worship across the province.
They said the ambitious project would chiefly invest in the purchase of surveillance cameras, planned to be installed in and outside more than 1,200 places of worship across Sindh.
The provincial government has initiated a project in which security surveillance cameras would be installed at temples, churches and gurdwaras.
"This project will greatly enhance the level of security at places of worship and protect the rights of minorities," claimed a senior official.
He said the project involved establishment of a modern surveillance and monitoring system at each place of worship using multiple video cameras installed at strategic locations around it.
Officials added that the project was planned in line with the directive of the ruling Pakistan Peoples Party's chairman, Bilawal Bhutto-Zardari, after a number of attacks on temples in Larkana, Hyderabad and other districts of Sindh during the past three years.
After those attacks, the provincial government deployed security on an average of less than two police guards per worship place across the province.
The Sindh Police have prepared a report and sent it to the home ministry saying that a total of 1,253 worship places belonging to the religious minorities had been documented in Sindh, which included 703 Hindu temples and 523 churches. Besides, 21 such places belonged to Ahmadi community and the remaining six are Sikh gurdwaras.
A total of 2,310 policemen have been deputed to guard all those places.
According to district-wise break-up of the worship places given in the report, most of them — 494 to be precise — are situated in Karachi, which included 387 churches and 107 temples.
Karachi East has the most churches (200) followed by 116 in Karachi West and 71 in South district. Most temples (61) are documented in Karachi South, followed by 39 in Karachi East and seven in West district.
Hyderabad has 238 worship places, including 156 temples and 72 churches while 10 belonged to Ahmadi community.
Similarly, Benazirabad and Mirpurkhas have respectively 50 and 112 temples, 12 and 21 churches and six and five Ahmadi establishments.
Larkana has 141 temples, seven churches and five gurdwaras while Sukkur has 137 temples, 24 churches and one gurdwara.
Officials said there are 232 policemen deputed to guard 239 churches and temples in Karachi East — less than one for a worship place. To bridge the gap, they added, 11 guards have been provided by various NGOs in the district.
The security cover to 116 churches and seven temples is much impressive in Karachi West where 364 policemen have been deployed while NGOs have provided 43 additional guards.
In Karachi South's 132 temples and churches, the authorities have provided 213 policemen while NGOs have stuffed them up with 83 additional guards.
The report also documented five violent attacks on worship places of religious minorities during the recent past — all of them against Hindus.
Three temples — Radha Kishan in Hyderabad, Shanga Bhawani in Makli, Thatta and Hanuman in Tando Mohammad Khan — and a Dharamsala in Larkana were attacked.
Officials in the home ministry conceded the deployment of security was generally disproportionate in districts, particularly in Karachi East, where the number of policemen was less than the number of worship places they were supposed to secure.