Pakistan
Shia leaders show unity at congregation on 11th martyrdom anniversary of Allama Turabi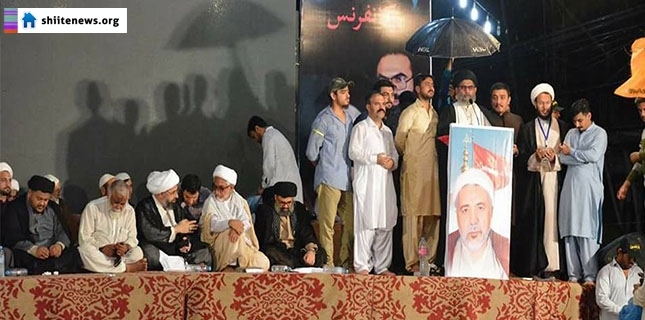 Shia parties and leaders demonstrated unity at the Martyrs Conference held in Karachi to commemorate the martyrdom of renowned Shia leader Allama Hassan Turabi of Shia Ulema Council.
His family hosted the programme where Allama Sajid Ali Naqvi of SUC, Allama Amin Shaheedi of Ummat-e-Wahida, Allama Ahmed Iqbal Rizvi of Majlis-e-Wahdat-e-Muslimeen, Allama Abbas Kumaili of Jafaria Alliance, Allama Mirza Yousuf Hussain, the Friday prayers leader of Jaamey Masjid Noor-e-Eeman, former MNA belonging to the Jamaat-e-Islami Asadullah Bhutto, Allama Nazir Taqvi and others spoke.
They paid tributes to Allama Turabi and other Shia martyrs saying that they were loyal sons of Pakistan and always condemned terrorism and wage struggle against terrorism and fanaticism.
Asadullah Bhutto said that Allama Turabi was not a martyr of a sect but he belongs to entire Muslim Ummah of Pakistan since he was a true symbol of unity of Sunni-Shia Muslims.
Other speakers eulogized martyr Allama Turabi saying that he always strived to rid Pakistan of extremism and sacrificed his life for the cause of Islam and Muslims.
The martyrs' conference was a unique event where eminent Shia parties' leaders expressed their united strength to the enemies.