Pakistan
Lal Masjid pro-Taliban Deobandi takfiri cleric Abdul Aziz acquitted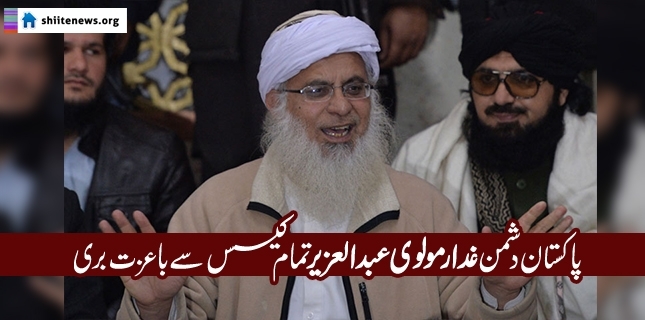 A judicial magistrate in Islamabad yesterday acquitted pro-Taliban Deobandi Lal Masjid cleric Abdul Aziz in a death threats case filed by Jibran Nasir and other civil society activists due to insufficient evidence that civil society activist blamed on police.
Abdul Aziz is known in all over Pakistan for his pro-terrorism hate-speeches and threats to Pakistani state and his opponents but no action has been taken against him so far.
Aziz was booked by the Aabpara police after he allegedly threatened civil society members including Jibran Nasir, Farzana Bari, Senator Sehar Kamran, and others during their protest outside the mosque against the cleric following the Peshawar APS terror attack.
The local court has announced the reserved verdict and acquitted the Imam of Lal Masjid, Maulana Abdul Aziz in the last case on Monday.
The charge sheet the police submitted in court, however, declared Aziz innocent, saying there was no solid evidence against him. Following the submission, Aziz filed an application requesting the court to quash the case against him.
Nasir, however, filed a counter application on October 22 challenging the police investigation and demanding a fresh inquiry. He said the police conducted an intentionally flawed investigation and misled the court. He said the police recorded the narrative of one side only and thus demanded reinvestigation.
Tariq Asad, counsel for Aziz, maintained that the police had investigated the case on merit and argued against a fresh probe. He said not one of the eight complainants had provided the police with any evidence against his client.
Nasir's application for re-investigation case was subsequently dismissed by Judicial Magistrate Muhammad Naseeruddin on December 2, 2016. On Monday, the court accepted Aziz's application for acquittal.
Meanwhile, another application filed by Nasir seeking registration of a hate speech case against Aziz is pending before Additional District and Sessions Judge Muhammad Adnan.
Nasir has sought a criminal case against Aziz for his alleged use of hate speech during a Friday sermon in January 2016. The court will take up this case today (Tuesday).