Pakistan
MWM demands General Raheel to order probe into Parachinar killings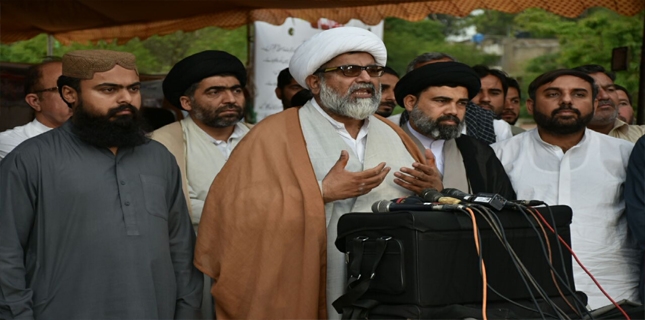 The Majlis-e-Wahdat-ul-Muslimeen (MWM) Secretary General Allama Nasir Abbas Jaffary on the third day of hunger strike on Sunday urged the Army Chief General Raheel Sharif to form a commission to probe the recent killings of four Shiite Muslims in Parachinar allegedly at the hands of FC and Levies personnel.
Speaking to a media conference here the MWM leader, who was flanked by Sunni Ittehad Council Chairman Sahibzada Hamid Raza and other leaders of the Majlis-e-Wahdat-ul-Muslimeen (MWM), alleged that Shia community was not only the victim of menace of terrorism but the attitude of state institutions was also unjust and biased towards it.
The MWM leader emphasised that the state and government were bound under the Constitution to ensure protection of life and property of the citizens, irrespective of their religion, faith or creed, alleging the government was failed in fulfilling its fundamental responsibility and obligation of protecting people's lives.
He charged the federal as well as provincial governments of Khyber Pakhtunkhwa and Punjab had been turning a blind eye to the atrocities being unleashed on those, who recite darood-o-salam.
Allama Nasir lamented that while PTI Chairman Imran Khan had time to visit London twice in a few days, he had no time to visit the families of victims of terrorism to condole the martyrdom of their loved ones.
He cautioned that if the PTI's Khyber Pakhtunkhwa government did not change its attitude of indifference with regards to sectarian killings by terrorists, the MWM could take to roads against this unending blood-letting.
Referring to killings of teachers and advocates in Dera Ismail Khan, Allama Nasir said that the district had become a killing field of Shias. He alleged that under the National Action Plan, the chanters of darood-o-salam were being rounded up and punished in Punjab, charging those who had openly supported the Zarb-e-Azb and anti-terror plan, were now being punished in the largest province by the provincial government. The MWM leader lamented that civil society activist Khurram Zaki was shot dead for raising his voice against the takfiri's and those, who did not believe in the state of Pakistan and its Constitution.
Allama Raja Nasir Abbas and Sahibzada Hamid Raza also condemned the action against Shia judges of Lahore High Court on sectarian grounds saying that the Takfiri elements in the government ranks are now infiltrated in the judiciary of Pakistan and hatching the plot to divide the country on sectarian grounds.
They urged the Officials to stop these biased actions against the judges of Lahore High Court on sectarian grounds forthwith to avoid division in the country on biased sectarian grounds.