Pakistan
50 madrassas in Sindh linked with banned outfits, Sindh Govt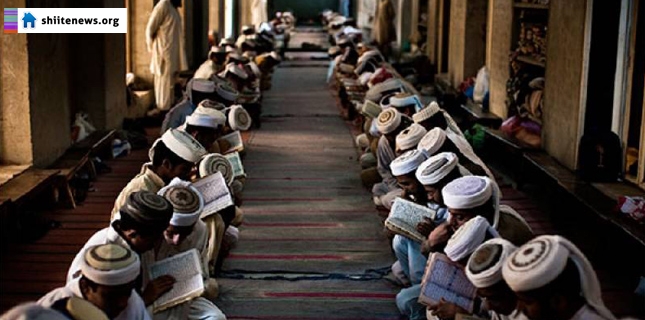 The Sindh government with the help of intelligence agencies has identified at least 48 seminaries ( madrassas ) in the province having links with banned terrorists organisations and half of them are operating in Karachi.
"These seminaries are promoting terrorism and terrorism training . We have worked out and our security forces are ready to take action against these illegal and un-registered madaris," IG Sindh Police Ghulam Hyder Jamali told a meeting held on Wednesday at CM House.
The meeting, chaired by Chief Minister Qaim Ali Shah, was held in compliance with the decision of the apex committee which decided to coordinate with the ulema of all schools of thought to get all madrassas registered under the amended laws in the province.
The sources said that all of these seminaries (Madaris) have belongs from Deoband school of thoughts in involved in terrorism, promoting of hatred materials and terrorists training to the banned terrorists groups.
The IG Sindh said that as many as 9,590 seminaries have been reported in the province, of which 6,503 are registered, 3,087 are un-registered and 167 have been sealed because of illegality.
During the meeting, the chief minister assigned the task for co-ordination to his special assistant on religious affairs Dr Qayoom Soomro and asked him to call an urgent joint meeting of all stakeholders, including ulema specially associated with Wafaqul Madaris, and seek their support for registration of the seminaries under the amended laws of the Sindh government.
"Provincial authorities have sought the guidelines from the federal government for registration of madrassas and even recommended some amendments, but we are still waiting for the response," Qaim Ali Shah said.
The provincial government cannot further wait and waste time and would itself amend the law for the safe and secure registration of madaris, he added.
The chief minister has given the go-ahead to the officials concerned to expedite their work and ensure that the task is completed as soon as possible with the co-operation of all the stakeholders in the province.
Dr Soomro told the meeting that he has already started establishing contact with the religious scholars and discussed with them on the subject. "No one among them is opposing the idea for registration of seminaries and all are willing to co-operate with the government."
Home Secretary Mukhtar Soomro said that the Sindh government would amend the law to get NOC from the concerned DC, home secretary and SBCA as compulsory for safe and secure registration of any madrassa.