Pakistan
Wahabi Terrorist plan to attack on Shia gathering in Gujar Khan was foiled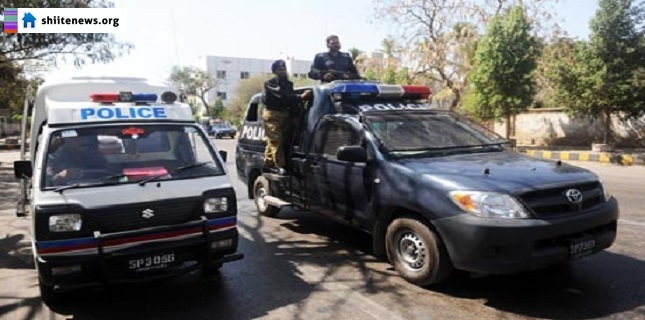 A plan to attack a religious gathering on Saturday night was foiled by the police who seized 15kg of explosive material. The Counter-Terrorism Department also managed to trace and identify the suspected terrorists on Sunday but no arrest could be made.
Regional Police Officer (RPO) Mohammad Wasal Fakhar Sultan told that a religious gathering organised by Shia Muslims with close to 400 participants was underway in Dhoke Hayat Ali area of Gujar Khan when police officials patrolling the area on a motorbike spotted two suspicious men in a nearby ground. The men were carrying a mysterious container. When the police officials approached the men, they got into a scuffle with the officials.
The suspects managed to run away abandoning their motorbike, parked nearby and the container they were carrying. Upon examination, the police found 15kg of explosive material in the container along with bolts, nails and a detonating device. During the scuffle, a piece of cloth tore off from one of the suspect's shirt and was left in the hand of a police officer.
According to a police official, requesting anonymity, the piece of cloth had the label of a tailoring shop stitched onto it and the police used this to trace the suspects to their home town of Yaka Ghund in Mohmand Agency in Fata.
Suspects were carrying 15kg of explosives near religious gathering
Preliminary investigation revealed that the motorcycle being used by the suspects was purchased and transferred in October 2014 in Mandi Bahauddin. It was also revealed that this motorcycle had been impounded by the police in the past, on suspicion of being stolen, but was later released.
According to the official, some people told the police that one of the suspects had been seen in Gujar Khan Ward number one and two numerous times. The official said that while the suspects had been traced within 24 hours, they could not be arrested. However, a case has been registered against the suspected terrorists with the Counter-Terrorism Department (CTD).
The Regional Police Officer Mohammad Wasal Fakhar Sultan confirmed that the suspects have been traced and will soon be arrested. "We have identified the suspects and traced them to their hometown" he said.
Rawalpindi City Police Officer Israr Ahmed Khan Abbasi said the police officials will be given a reward of Rs5,000 each. He appreciated the officials for their vigilance and dedication. He said security in Gujar Khan area had been beefed up and urged citizens to also keep an eye on their surroundings for suspicious individuals.