Pakistan
With threat letter, Deobandi ASWJ threw grenade on school in Karachi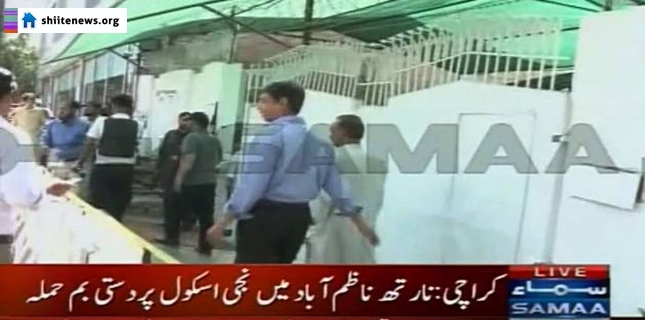 Notorious Deobandi terrorists of proscribed ASWJ riding on motorcyclists hurled a hand grenade at a school near KDA roundabout in Karachi's Nazimabad locality Wednesday though no loss of life or property was reported in the incident. They also dropped a 'threat letter' in the school premises before escaping from the scene.
According to sources, terrified children were told to duck down by school officials after the bomb went off. Bomb disposal squad personnel present at the scene said 500 grams of explosive material was used in the making of the bomb.
A similar incident took place yesterday when unidentified attackers hurled a grenade at a mosque in Karachi's Orangi Town area.
Earlier, in February, unknown motorcyclists had hurled a grenade on a road that houses a number of private schools in Karachi's Gulshan-i-Iqbal Block 7 area causing fear and panic among area residents. No loss of life or property was reported in the incident.
It is relevant to add here that Deobandi terrorists of Taliban and ASWJ have launched a war on Pakistan and Pakistanis since long. Now, they bomb innocent civilians, worshippers and children to threaten opponents in a bid to force the government and army to stop army operation and execution of the terrorists.
Many schools across the country beefed up security following a Taliban attack at the Army Public School in Peshawar on December 16 which had claimed the lives of more than 150 people including 141 school children.