Pakistan
GB biased Mehdi Shah Government suspends 12 more Shia officials, total 60 Shia Govt Officials suspended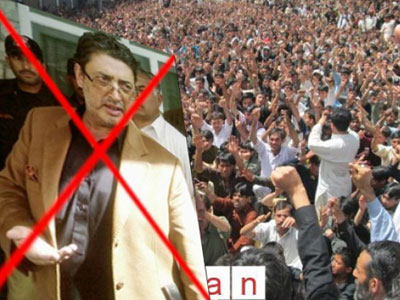 The PPP led biased Gilgit-Baltistan provincial Government has suspended 12 more Shia officials to punish them to foil the Mehdi Shah corrupt government conspiracy to expel the Majlis-e-Wehdat Muslimeen (MWM) Secretary General Allama Raja Nasir Abbas Jafari in Kachura district of Baltistan.
It's pertaining to mention here that the biased government of Gilgit-Baltistan had suspended 48 Shia Muslims on 25th July and later suspended 12 more Shia government officials of Kachura and Skardu districts to punish them for a successful visit of the Shia leaders and to foil the conspiracy of corrupt government of Gilgit-Baltistan.
According to the Shiite News Correspondent, Orders to suspend these officers from Kachura and surrounding areas have been issued. Some days ago, the biased government had issued orders to expel Allama Nasir Abbas Jafri, secretary general of Majlis-e-Wahdat-e-Muslimeen and ban on his entry into the province for 90 days.
Those orders evoked instant reaction from all parts of Pakistan. Thousands of people thronged Gilgit and Baltistan's streets to protest against those orders. Finally, the government had to withdraw those orders.
Analysts and observers see similar mindset behind the orders for suspension of 60 employees from their services. They said that the decision was aimed at tormenting the government employees on the ground that they are Shias.
Allama Aijaz Behishti, chief of MWM Youth Affairs has said that the government was trying to intimidate Shia officials but he warned the government that Shias were aware of the government conspiracies.
He said that government should pay attention to the culprits of Chilas and Kohistan tragedies and should take action against them. He warned the Government to reinstate the suspended Shia Employees forthwith saying that they would besiege the offices of Chief Minister and Commissioner Gilgit-Baltistan if the Shia government officials were not reinstated before Eid-ul-Fitr.