Pakistan
Allama Hassan Zafar appeals to Shias to fill Minar-e-Pakistan on July 1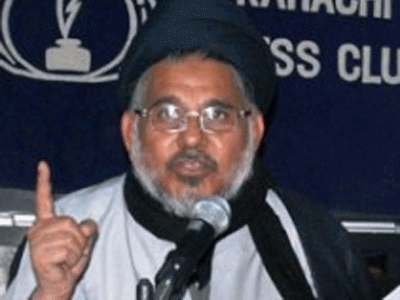 Allama Hasan Zafar Naqvi, central spokesman for Majlis-e-Wahdat-e-Muslimeen, has appealed to Shia Muslims to fill Minar-e-Pakistan on July 1.
The MWM has announced a public meeting in the name of Quran-O-Sunnat Conference at Minar-e- Pakistan on July 1.
In an exclusive interview with Shiite News, Allama Naqvi said that it is not the time to sit in the houses. Shias should come out on July 1 like they did in Karachi on March 25 when they largely attended MWM Quran-O-Ahle-Bait Conference. He asked Shias from Parachinar to Karachi to shoulder their responsibility because defence of Shias legitimate rights is tantamount to defence of Pakistan.
"The world and history bear witness to the fact that we established Pakistan along with Sunnis. Those who opposed Pakistan in the past have now joined hands in the name of defence of Pakistan (Council)," he said.
He said these opponents of Pakistan and terrorists make no difference. He said that their conspiracy is aimed at bringing NATO forces inside Pakistan on the pretext of ending unrest that these terrorists were causing in tribal areas.
"Parachinar is the only area where security forces feel no threat and in the rest of north western part of Pakistan, they have to carry out operations," he said.
Allama said that Pakistan was heading towards anarchy that has reached some areas. He said Pakistan had become a victim of international conspiracies. He said he didn't see Pakistaniat anywhere but he saw protection of groups' interests. He said that every street and Mohallah had become mini-states.
He said that bloodshed became the order of the day and all provinces fell to this sort of circumstances. All this is done under a scheme. He said that all pillars of the state were jolted and judiciary too is no exception. Economic conditions had turned worst.
"Unfortunately, we had been pointing out of these facts for last 30 years but nobody paid attention. We made clear that what the Shia Muslims were made to face may be the fate of all in the future," he said.
However, he said, all political and religious parties were silent and nobody voiced protest. All cities were made slaughterhouse for Shias and situation remains same even today despite the fact that we warned that this fire could also catch others.
Allama Naqvi said judiciary that is known for its activism and suo motu notice has not taken a single suo motu notice on genocide of Shia Muslims. He referred to Dera Ismail Khan, Parachinar, and Southern Punjab and targeted killings in Karachi and Quetta. He said that even namaz-e-janaza of a slain Shia was not allowed in Mastung.
He said that desks were established in some institutions and they were working even today.