Pakistan
Thousands attend MWM's protest Day rallies to mourn Shikarpur massacre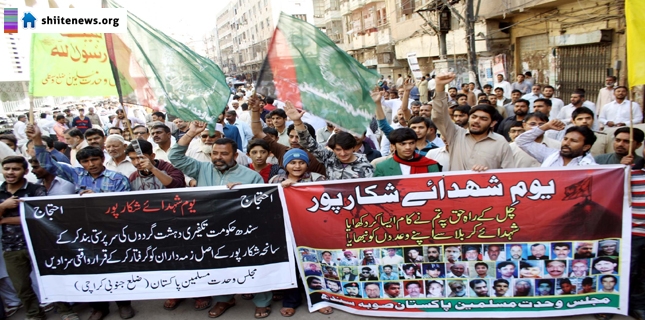 Thousands of supporters were seen at the rallies and congregations that were held across Sindh mainly in Karachi on Friday on a call from Majlis-e-Wahdat-e-Muslimeen to continue protest and mourning on Shikarpur massacre.
Karachi-based Shia Muslims held congregations at mosques and held rallies outside those mosques where Friday prayers were held. Such protest was seen outside Jamey Masjid Noor-e-Eeman in Nazimabad, Jamey Masjid Darbar-e-Hussaini in Malir, Jamey Masjid Abul Fazl Landhi, Jamey Masjid Imamia Sadat Colony, Jamey Masjid Mustafa (PBUH) Abbas Town and Hussaini Masjid Sachal Goth.
Amid the slogans of Death to Takfiris and Down with pro-takfiris, MWM's officials Allama Mubashir Hassan, Asif Safavi, Nasir Hussaini, and Shabbir Hussain spoke to the protestors outside Jamey Masjid Khoja Isna Ashari Kharadar. Maulana Ali Anwar Jafari, Mohammad Hussain Jafari, Maulana Mehdi Karimi, Ahsan Abbas and some other officials of the MWM addressed the mourners at other places.
They denounced the Sindh Government for suicide bombing in Karbala Moalla Masjid and Imam Bargah Lakhi Dar Shikarpur because, they argued, inaction against the banned takfiri outfits and official protocol in the name of security to banned takfiri outfits' terrorists was the root-cause of unabated genocide against Shia Muslims and targeted attacks on their mosques and Imam Bargahs.
They said that on the one hand, condemned takfiri terrorists were being hanged to death and on the other banned takfiri outfits project them as heroes and everything that they were doing was under the nose of Sindh Government and its security officials who provide security to the ringleaders of the outlawed outfits.
They demanded military operation to eliminate banned takfiri outfits terrorists in entire Sindh province and in particular Karachi.
The mourners held fateha for the martyrs of Shikarpur massacre. They expressed solidarity with grieved heirs and relatives of the martyrs.