Pakistan
Shia Muslims gather outside founder of Pakistan's shrine to protest suicide bombing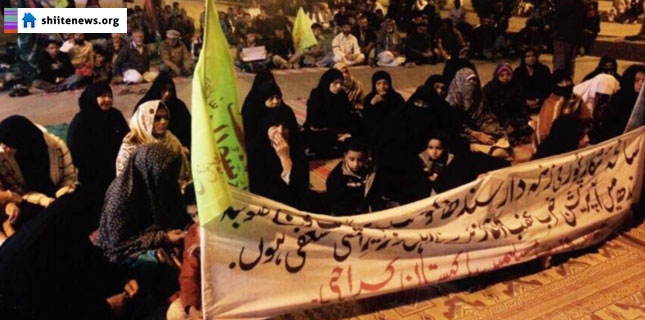 Shia Muslim supporters of Majlis-e-Wahdat-e-Muslimeen began staging a sit-in on main Numaish Chowrangi in Karachi on Friday evening to protest against the Deobandi takfiris suicide bombing in Friday prayer congregation of Shiites in Masjid and Imam Bargah Karbala Moalla, Lakhi Dar, Shikarpur.
The protestors gathered outside of mausoleum of founder of Pakistan Mohammad Ali Jinnah near Numaish Chowrangi and raised slogans against the takfiris for suicidal attack in Shikarpur District.
"Due to negligence of Sindh Government and security officials, takfiri terrorists continued massacring en bloc innocent people of Pakistan mainly Shia Muslims," said Allama Mukhtar Imami, MWM Sindh secretary general, speaking to the sitters.
Maulana Aqeel Moosa, Maulana Ali Anwar, Maulana Ahsan Danish, Allama Mubashir Hassan, Ali Hussain Naqvi, Engineer Raza Naqvi, Nasir Hussaini and other MWM's local officials also spoke.
They lambasted the government officials for more deaths that could have been averted through timely treatment of the wounded victims of the suicide bombing in Shikarpur Masjid and Imam Bargah.
On the other hand, Shiites across Sindh province began staging protest against takfiris suicide bombing. Shops were closed down Tando Mohammad Khan, Matli, Badin, Tando Bago, Jacobabad, Shikarpur and Kashmore. In Khairpur district, Kumb Bypass Road was blocked for traffic by the Shia protestors. Sit-in was being staged in Kotri and more cities and towns are joining in the protest being staged by angry Shia Muslims who believe that Sindh Government's inaction and pro-takfiri leaders within the ruling Pakistan People's Party are directly responsible for the unabated Shia genocide in the province. Many areas across the province are wearing strike-like look due to the Shia protests.