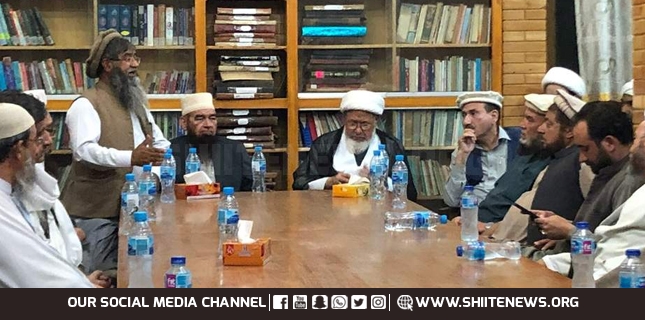 Shiite News: Following the teaching of Syed us Shuhdaa, Aba Abdullah Al Hussain (AS), Shian-e-Haider-e-Karar of Baltistan have announced to forgive attackers of mourn procession of Ashura, in Ghawari.
In this regard many days long negotiations between provincial ministers and Shia Ulema and elders to find peaceful solution of Ghawari's procession attack. Finally, on Monday a delegation of Ulema and Elders of Anjuman-e-Ahle Hadith Baltistan under the leadership of Maulana Abdul Wahid and Dr. Muhammad Ali Jauhar visited the office of Anjuman-e-Imamia Baltistan and expressed their apology and regret on the incidence of attack on Ashura procession. They also assured honor and protect local mourn processions in future.
On this occasion Allama Sheikh Muhammad Hassan Jafferi received the delegation and welcomed their goodwill gesture. He also emphasized all the sects to maintain traditional peace and harmony in further and extended his thanks to provincial ministers and peace committee of GB for playing role in reconciliation.
This to be remembered that on the eve of Yom-e-Ashura in Ghawari Town, some miscreant threw stone on the participants of mourn procession by which 50 mourners became injured.