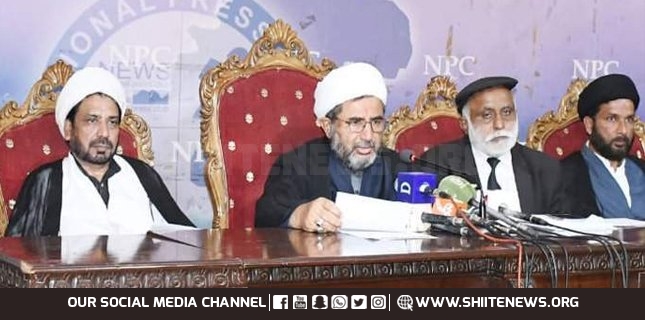 Shiite News: On the instructions of the head of Shia Ulema Council, Allama Sajid Ali Naqvi, SUC leader warned to government and law enforcement agencies that no compromise would be acceptable on Azadari and ongoing crackdowns could turn on our peaceful mourn procession into countrywide sit-in protests on said issue.
They expressed such views while holding highly attended press conference at National Press Club, Islamabad in which Allama Arif Sikandari, Syed Sikander Abbas Gillani Advocate, Allama Farhat Abbas Jawadi, Allama Syed Jaffer Hussain Naqvi, Nayer Iqbal Baluch, Syed Wazir Hussain Kazimi, Allama Kausar Abbas Qumi, Syed Nazakat Hussain and others were presented.
They further said that we had been kept hawk eye on illegal measures were being made by government against Azadari from 1st day of ongoing Muharram Al Haram and continuously pointing them on it but no correction had been made for it.
They added that all schools of thoughts were allowed to perform their ritual as per their faith under article 20 of constitution of Pakistan and numbers of judicial orders also support said civic right, therefore no executive order or SOP could revoke fundamental right of the Public.
They made it clear that on the issue of ban on Ulema to enter in certain districts and provinces as well as FIRs against in house Majalis had been sent to PM and concerned authorities but still no could be taken which was tantamount to bother mourners of grandson of Prophet Muhammad PBUH, Imam Hussain (AS) and his martyred family and fraternity.
They reiterated that if Police and authorities would not change their behavior towards Azadari ultimately peaceful Shia Community could opt to start prison-filled movement on such a serious issue.