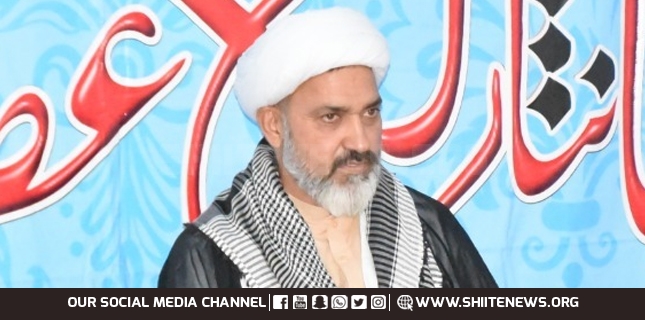 Shiite News: Secretary General of MWM Punjab, Allama Khaliq Asadi said that Azadari during Muharram Al Haram was guarantee to peace, tranquility, progress and integrity of Pakistan.
He expressed these views while addressing members of Tahafuz-e-Azadari Cell at MWM Punjab Secretariat which was attended by Mazahir Shigari, Dr. Iftikhar Naqvi, Allama Syed Hasan Raza Hamdani, Roy Nasir Ali, Syed Hussain Zaidi, Muntazir Mahdi, Najeeb Naqvi and others.
He further said that Anti-Islam and Anti-Ahle Bayt forces used to start urging non-issue of security in Pakistan from the day of moon sighting of Muharram Al Haram and unfortunately, government and administration become ploy of them whether intentionally or unintentionally of such conspiracies, in reaction they start to create hurdles in Azadari while it was legally and constitutionally an establish human and civic right.
He added that Quaid-e-Azam, Muhammad Ali Jinnah founded Pakistan to give rights to all citizens of the state but Police and Administration become puppet in the hands of few number of Tafeeri miscreants and register falsified cases under 16 MPO against founders of Majilis, if said practice will not stop we would justify to run peaceful campaign on this issue.