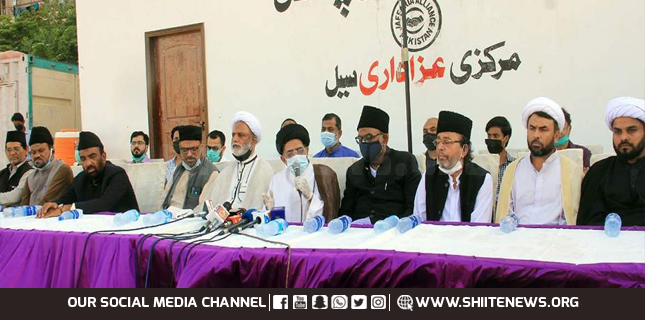 Shiite news: Jaffaria Alliance Pakistan President Allama Razi Jaffar Naqvi has said that a black day will be observed across the country on Friday, 21ST May, against the Israeli aggression on Palestine. Protests will be held outside all mosques across the country. He expressed these views while addressing a press conference at Nishtar Park, Karachi. Allama Hussain Masoodi, Allama Baqir Hussain Zaidi, Allama Nisar Qalandari, Allama Furqan Haider Abidi, Allama Rajab Ali Bangash and other leaders were also present on the occasion.
Allama Razi Jafar Naqvi further said that the entire Pakistani nation is one voiced on the issue of Palestine, which is support for the issue of oppressed Palestinian. it is part of Pakistani national policy, He also inquired that why the 41-nation military alliance does not move for Palestine? Now, the time has come for practical action against Israeli terrorism. Forty-one countries military alliance should take action against Israeli terrorism. Israel is carrying out organized genocide of Palestinians. The Palestinian nation is fighting the war of the whole Islamic world.
Allama Razi Jafar Naqvi further said that we will not compromise even an inch of Palestine, we support the repatriation of Palestinians for a just solution to Palestine. Today, the balance of power in the world has changed and Israel in the trap of Palestinian resistance. The solution to Palestine is possible only with the repatriation of Palestinians and the expulsion of settlers from the land.
Addressing the press conference, other leaders said that the Palestinian people are fighting a war of truth and falsehood, victory is the destiny of the Palestinians, Israeli terrorism against the Palestinian people is sponsored by the United States, but the time will soon come when the Palestinians will wipe off Israeli occupants from the map of the world. The Muslims of the world are protesting against Israeli terrorism. Being Pakistani nation our position on Palestine is the same as that of principles sat by the founder of the country, Quaid-e-Azam, Muhammad Ali Jinnah.