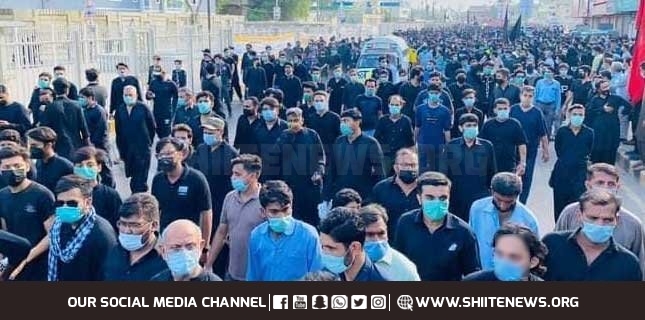 Shiitenews: The procession of Youm e Ali A.S held across the country with all of its honour and the mourners followed the sops, take precautionary measures and maintained the social distance. However, some ignorant friends and wise foes with their hate for Imam Ali A.S are spreading propaganda against the procession of Youm e Ali A.S and are expressing the chance of Corona epidemic over these gatherings.
Pay attention and take off the lens of prejudice who are accusing Youm e Ali A.S processions for spreading corona.
Medical experts around the world agreed that coronaviruses are more likely to spread in closed spaces and have less chance to spread in the open air. That's why NCOC has orders to conduct the programs in the open air.
The processions of Youm e Ali A.S is totally being conducting in open air so there is very minimum chance of Corona.
And also all the mourners are taking precautionary measures according to the views of medical experts which make sure that the level of spreading corona due to these programs are equal to approximately zero. So that's why these processions are not exactly the source of Corona.
But the haters and commentators on Youm e Ali A.S are not noticing those, who are in shopping Malls and those parties who are campaigning for their elections recently without following single SOP, which are the real source of spreading corona virus.
Government and inconsiderate and bigoted people should be conscience and play their role in implementing Corona SOPs across the country. And should stop balming the procession of Youm e Ali A.S. A mourner always takes precautionary measures because a mourner is always responsible.