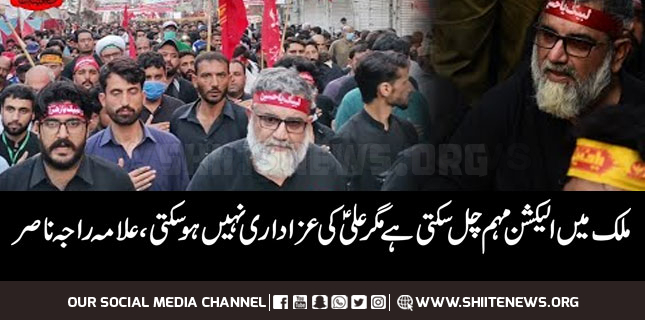 Shiitenews: An important press conference held in Islamabad by Allama Raja Nasir Abbas head of MWM in which he said that In this country election campaigns may held but not mourning gatherings of Imam Ali's A.S. Government is misusing the powers which they shouldn't.
According to the reports in this important press conference Allama Raja Nasir Abbas said the government does not obeys the constitution nor does it uphold basic human rights.
He further said that by-election campaign is allowed in the country but the procession of martyrdom of Muskim's Caliphate and son-in-law of Rasool is prohibited. Mourning is part of our devotion and any religion doesn't allows to any one to put restrictions on them.
He added that the government have the rights to set SOPS for a program but its not have the right to interfair in religious matters. Mourning didn't stopped by killing us, it was tried to finish our Azadari by terrorism. We had gave too much blood for mourning.
He added that the infact the institutes who are trying to put restrictions on processions didn't know any thing. Government did exactly the reciprocal of Shia scholar consultation about Youm e Ali A.S. Government should take this that shia will not stepped back from there main ideology. The movement of Pakistan was to seek a state where Muslims can perform their worshippings without any restrictions.
He said that our incistors had laid many sacrifices for the independence of Pakistan. The unwise descions of government shows that they have no religious. Shia nation is a civlized nation we never ever escape humanity and gentility. We always put forward the constitution and law of country first. It is also our duty to care about SOPS in our gatherings and processions.
Malik Iqrar, Allama Akbar Kazmi, Moulana Zaheer Karbalai, Head AJA Shabahat Rizvi, Zahra Asghar Abidi, and Central leader of MWM Asad Naqvi also were in press conference.