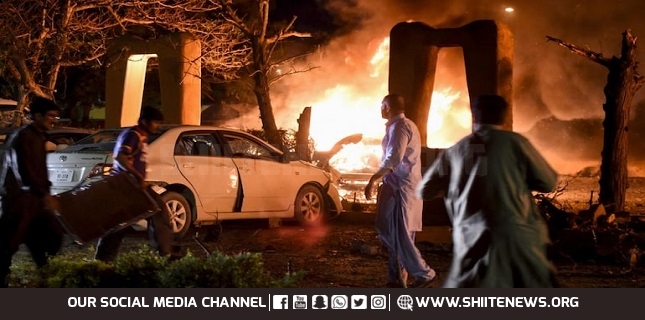 A powerful bomb exploded in the parking lot of the Serena Hotel in Quetta on Wednesday night, killing at least four people and wounding 12 others, officials said.
DIG Azhar Ikram said that the explosive device was apparently fitted in a vehicle, according to initial investigations. He added that a police official was among the deceased.
Security, fire and rescue officials were rushing to the hotel and no one was being allowed to go near the site of the blast, which took place at around 10:15pm.
Addressing a press conference some time after the incident, Balochistan Home Minister Mir Ziaullah Langove said that there was a wave of terrorism in the region. "Our own people are involved in these acts of terrorism," he said, adding that there were no threat alerts before the attack.
Addressing media reports about the Chinese ambassador being the apparent target of the attack, Langove said that the ambassador was not present at the hotel when the explosion occurred.
"I have just met the Chinese ambassador and he is in high spirits," he said, adding that the investigation will ascertain the target.
Balochistan government spokesperson Liaquat Shahwani said the incident was being investigated from all angles. "Those involved will not be able to escape the grip of the law," he tweeted.
According to The Associated Press, Shahwani called the bombing an act of terrorism without elaborating. "Enemies of Pakistan are behind today's attack," he said.
Quetta Deputy Commissioner Aurangzeb Badini confirmed on Twitter that four people had died and a dozen injured in the explosion.