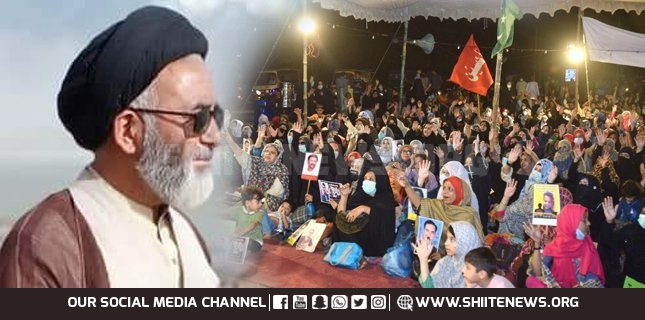 Anjuman Imamia Baltistan president condemns enforced disappearance of innocent Shia Muslims.
Allama Syed Baqir Hussaini expressed concern over unlawful and un-Islamic enforced disappearance.
Deputy Khateeb of Markazi Imamia Jamey Masjid Skardu further said that all accused should have access to justice.
Anjuman Imamia Baltistan president condemns enforced disappearance
Therefore, he demanded their production in the court of law if the captors have any formal charge against them.
Moreover, he lamented refusal of meetings of the families with the victims of enforced disappearance.
He announced support to ongoing protest, including sit-in against enforced disappearance.
He also lamented inaction of the judiciary against enforced disappearance.
Furthermore, he said not ensuring release of victims of enforced disappearance stand condemnable.
Meanwhile, MWM Pakistan spokesman Allama Maqsood Ali Domki underlined peaceful protest a legitimate legal right.
He made clear that nobody could subdue us through use of such negative tactics.
He condemned police raid on peaceful protesters in Islamabad.
Allama Maqsood Domki further said that police action against protesters cannot divert attention from illegal enforced disappearance.
The ICT police arrested Shia notables protesting against enforced disappearance in Islamabad on Sunday.
Shia Muslim notables, including women and their children were protesting against enforced disappearance of loyal sons of Pakistan.
Islamabad Capital Territory police stormed the venue outside Press Club and began bundling them into the vehicle.
Usually, police use such vehicles for transfer of prisoners from one place to second place.
The ICT police didn't have mercy upon minor children and women.
protesters condemned unjustifiable enforced disappearance of patriot Shia Muslims.
Meanwhile, sit in protest against enforced disappearance of Shia Muslims enter 3rd day on Sunday.