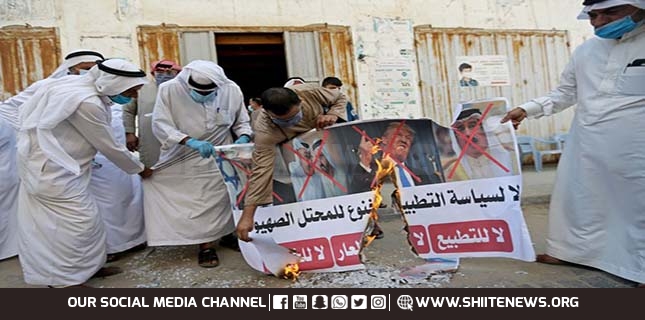 Bahrain and UAE betray Muslim majority and Pakistan to hug Israel and its Jewish racism.
On the one hand, Bahrain regime has given harsh punishment to peaceful protesters for their support to Palestine and Kashmir. And on the other hand, Bahrain regime has appointed non-Muslim minority Jewish to key positions and allowed maximum freedom to minority Jewish community.
This comes amid mounting pressure on majority Muslim population while usurping their legitimate rights.
Bahrain and UAE betray Muslim majority and Pakistan to hug Israel
Minority Al Khalifa dynastic monarchy deprive Shia majority in Bahrain of their Bahraini nationality but hypocritic regimes in the EU and U.S.A have no problem with this worst sort of violation of fundamental human rights of Bahraini majority community.
Nor they support democracy in Bahrain which automatically pave way for majority rule in Bahrain.
Similarly, the Muslim majority in UAE reject pro-Israel policy of non-representative heredity regime of al-Nahyan family.
Emirati Arabs also have disapproved UAE monarchy's anti-Palestine and anti-Arab pro-Israel foreign and domestic policy.
Meanwhile, Pakistanis and rest of the Muslim and Arab countries people express dismay over this unfair policy.
Particularly, they say that both the UAE and Bahrain monarchies are betraying Muslim majority to hug Jewish minority under dictation from Israel.
Moreover, pro-Kashmir Pakistani nation also lament UAE and Bahrain's anti-Ummah anti-Kashmir policy.
Many Pakistanis note with concern and anger that UAE have launched a crackdown on Pakistanis since long.
The UAE regime has deported thousands of Pakistani workers and investors.
Moreover, the UAE also detained many Pakistanis and subjected scores of Pakistan to enforced disappearance.
Meanwhile, Muslims and especially Pakistanis demand that the governments of all Muslim countries should take notice of that anti-Ummah policy.