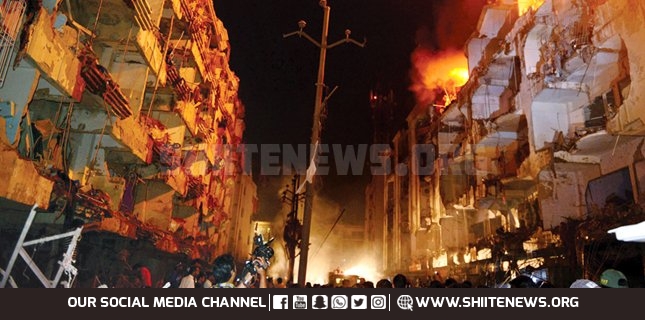 8th anniversary of Abbas Town blast today no culprit hanged so far, lament the families of the victims.
Notorious takfiri nasbi terrorists bombed Shia majority Abbas Town in Karachi on March 3rd, 2013.
8th anniversary of Abbas Town blast today
They parked a Suzuki loaded with hundreds of kilograms of explosives and detonated it in the densely-populated residential area.
It killed 48 people and injured 140.
To date, the tragic bombing haunts the residents of the area.
Meanwhile, the families and Shia Islamic parties continue to remember the martyrs of the Abbas Town tragedy every year on the anniversary.
The police officer Chaudhry Aslam had arrested terrorists Khairuddin alias Mansoor, Mohammad Ishaq, Irfan, Inamullah, Bashirullah and Sher Alam Mehsoob.
During the encounter with them in Manghopir, CTD had also seized 250 KG of explosives from terrorists.
The takfiri terrorists belonged to outlawed Sipah Sahaba, its subsidiary Lashkar-e-Jhangvi and Tehreek-e-Taliban Pakistan.
Moreover, the CTD officials had also seized a VBIED weighing 150 kg explosives from the site of the encounter.
According to the CTD officials, the terrorists used Suzuki vehicle in the Abbas town blast registered in Karachi, but they brought explosives from Balochistan via Hub.
The Sindh government had referred the case to an anti-terrorism court. But the culprits had not been hanged so far.
Moreover, those terrorists also remained involved in a blast in Landhi and a blast at the police check post in Site area.