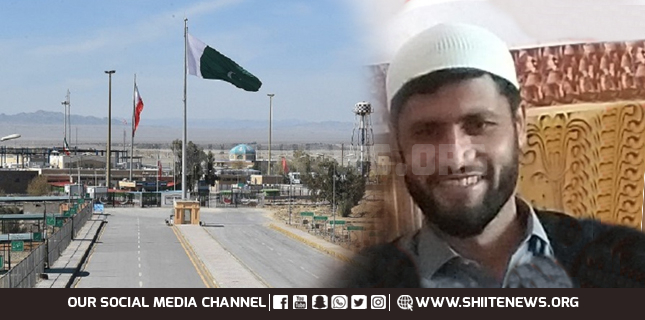 Shia student subjected to enforced disappearance near Taftan border after he returned from Iran.
Pakistani pupil Yasir Ali Javadi has been getting education at Hawza Ilmiya Qom in Iran.
Shia student subjected to enforced disappearance near Taftan
He returned to his country Pakistan via land border crossing Mirjaveh-Taftan because of academic vacation.
Unfortunately, security officials subjected him to enforced disappearance without any charge.
His friends and the family respect Yasir Javadi as highly upright and honest person.
The family has lodged complaint over lawlessness which put Yasir Javadi under undeclared and illegal detention.
Meanwhile, Shia Muslim community condemned violation of fundamental rights of Shia citizens of Pakistan.
Specially, the community say that security agencies should follow legal course instead of acting as violator of law.
They further say that law and court of law have a particular course for the accused of any charge.
According to them, subjecting anybody to enforced disappearance defames Pakistan worldwide.
Moreover, they say that Shia Muslims never went against state and they never supported separatist or anti-state terror wings.
Therefore, they lament that biased officials within security agencies victimize peaceful and law-abiding Shia community for sectarian reasons.
Shia Muslim community rejected this biased policy and reminded all that these biased and rogue elements cannot hoodwink people.
Because, the entire nation and the entire world know that takfiri nasbi thugs and militants of outlawed outfits such as Sipah Sahaba (Lashkar Jhangvi) pose threat to Pakistan.
But, their ringleaders such as M Ahmed Ludhianvi, Aurangzeb Farooqui, et cetera et cetera, enjoy complete freedom in Pakistan.
Why they remain free despite a history of genocide, massacre, bigotry, terrorism!?