Pakistan
Pro-Taliban Deobandi takfiri Lal Masjid surrounded by Pakistani Civil Society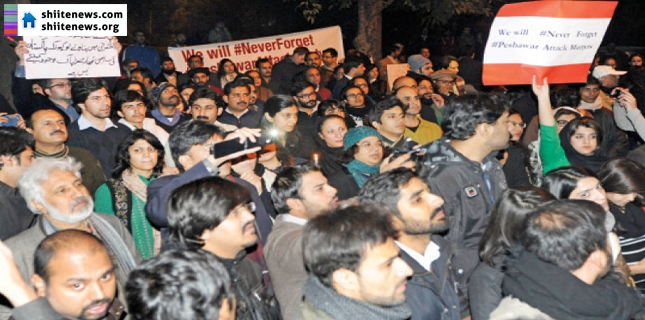 Failure of Deobandis and their known clerics to condemn Peshawar massacre of children leads to remarkable protest outside Islamabad's Lal Masjid (Red Mosque) that is a symbol of Taliban mindset.
Civil Society began protest outside the Lal Masjid on Thursday night and till the filing of this report on Friday afternoon, they are present there. Their peaceful protest has angered Deobandi fanatics who may attack them.
Anger in Pakistan at the massacre of 132 children and 9 female teachers and other staffers in a school in Peshawar hit Islamabad's infamous Red Mosque because protesters condemned its hardline clerics over their failure to condemn the killings.
Deobandi Abdul Aziz, the head of the seminary and mosque, is trying to justify the massacre of innocent school going children on the pretext that lack of enforcement of Deobandi-Islamic Laws engendered Taliban mindset which majority of Islamic world has termed takfiri ideology that has nothing to do with Islam.
Surrounded by a large contingent of riot police, the demonstrators gathered yards from the gates of a building that was the scene of a bloody ten-day siege between extremists and security forces in 2007.
Angry and emotional speeches were punctuated by cries denouncing the Red Mosque establishment as friends of the Taliban and traitors.
Particular ire was directed against Abdul Aziz, the mosque leader who in a television appearance after the killing of 141 people at the army public school in Peshawar on Tuesday refused to unconditionally condemn the attack claimed by the notorious takfiri Deobandis of outlawed Tehreek-e-Taliban Pakistan (TTP).
Some in the crowd mocked him as "Mullah Burqa" because of his infamous attempt to escape the 2007 siege in an all-enveloping woman's veil. At one point a senior mosque official attempted to speak to the furious crowd but was angrily shouted down and retreated back into the building.
Popular anger at the slaughter of so many young children remains high, and several takfiri Deobandi-Wahhabi militant organisations, including the Afghan Taliban and TTP splinter group Jamaat-ul-Ahrar have been moved to publicly condemn the attack in a failed attempt to cover-up their ferocious face. Deobandis have been hijacked by Saudi monarchy's Wahhabism that taught them fanaticism of Mohammad ibn Wahhab al-Najdi and trained them to annihilate the opponents and sacred shrines of Islam. Contradicting a wealth of evidence, spokesman Mohammad Khorasani claimed the suicide attackers killed "only fifty youth" and only after they had been identified as the children of army officers.
Islamabad's Red Mosque enjoys an iconic status among Pakistani takfiri extremists. In recent times it has named a library in honour of former al-Qaida chief Osama bin Laden and its female madrassa students published a video this month in praise of DAESH ringleader Abu Bakr al-Baghdadi.