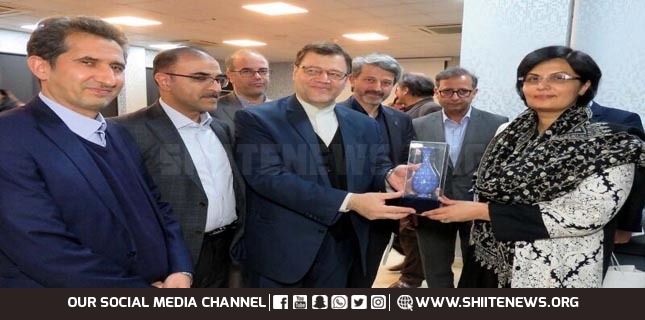 Pakistan and Iran to cooperate for alleviating poverty and social problems. Iran's Deputy Health Minister for medical education Dr Baqer Larijani announced this on Monday.
During his visit to Pakistan, he led Iranian delegation. They discussed bilateral issues with Pakistani counterparts.
Furthermore, Iranian delegation also visited several medical centers.
Iranian delegation in Pakistan
They held talks with a number of Pakistani officials including Sania Nishtar, Special Assistant to the Prime Minister on Social Protection and Poverty Alleviation.
They also met Sheikh Rashid, Minister of Railway and dicussed way to widen bilateral relations.
After having thrashed out many issues, Dr Baqer said that the two neighboring countries agreed to exchange university students.
Pakistan and Iran to cooperate
Pakistan and Iran also agree to enhance cooperation in the areas of research and education.
Larijani said that Pakistani officials are willing to enjoy Iran's health experiences since Iran is highly skilled in controlling non-communicable diseases (NCDs).
About his Islamabad visit, he said the two sides agreed on preparing the ground for a roadmap for development of bilateral cooperation.
Baqer Larijani-led Iranian delegation arrived in Pakistan on December 26.
Meanwhile, Iran deputy minister also foresees Pakistan Iran health tourism.
In an interview, he revealed ongoing efforts to organise health tourism between Iran and Pakistan.
Specially, he highlighted the availability of immense health facilities in Iran.
He said that fortunately, Iran is progressing well in the medical sector with thousands of well-equipped and advance hospitals around the country.
Iran is fully capable to share and enhance its health facilities with regional states as many people from the neighboring countries visit Iran for health tourism.
"We would like to facilitate more and more patients from neighboring countries," he stated.
Dr. Bagher Larijani said Iran and Pakistan have some kind of cooperation on eye diseases and surgical areas.
But, they want to do it in an organized way so that no negative element can take advantage of this activity or could damage the dignity of both states.
He said Iran's health ministry is working on different proposals in this regard.
He noted Pakistan interested to enhance cooperation with Iran in the health sector and soon we will prepare a charter on the matter.
Lrijani termed his meetings with Pakistani officials as useful.
Furthermore, he said both countries can share experience in the health sector especially in medicine manufacturing.