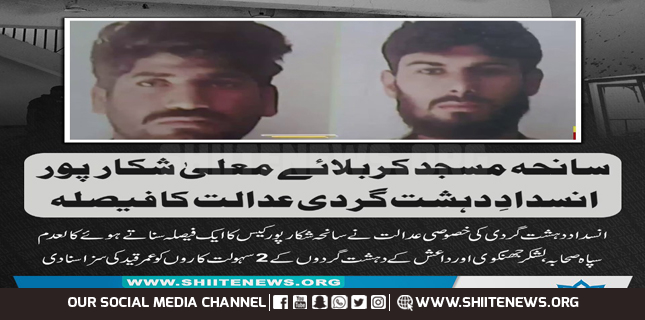 Two facilitators of Daesh awarded life imprisonment for Shikarpur tragedy while third one got release due to lack of proofs.
Two facilitators of Daesh
Anti Terrorism Court Sukkur convicted Khalil Ahmed Brohi and Ghulam Rasool Brohi.
However, it released Mohammad Deen Brohi owing to lack of evidence.
Terrorists belonging to Daesh-ASWJ nexus through Lashkar-e-Jhangvi perpetrated suicide bombing at Shia mosque during Friday prayers in January 2015.
That terror attack left more than 110 people injured or killed in the attack on the Karbala Moalla Mosque/ Imambargah.
Unfortunately, those victims also suffered due to inhumane treatment because only five of them found relief at Shikarpur's Civil Hospital.
The hospital turned away most of the critically injured while they were bleeding profusely.
Nexus of ASWJ Daesh terrorists
Notably, Daesh or TTP originated from Lashkar-e-Jhangvi and its mother wing Sipah Sahaba (ASWJ) who remain mother of all terrorism in Pakistan.
These terror outfits have remained affiliated with al-Qaeda, Taliban and Daseh. And chroniclers may call them franchise of that global terrorism in Pakistan.
Also, their fanatics joined al-Qaeda, TTP and Daesh Pakistan chapter. Besides, they have perpetrated heinous crimes against humanit across Pakistan.
Amazingly, Pakistan government has banned these outfits on one hand, and give official protocol to their ringleaders on the other.
Therefore, this hypocrisy has disappointed peace-loving Pakistanis.