Pakistan
Shia-allied Revolution March stages final sit-in outside Parliament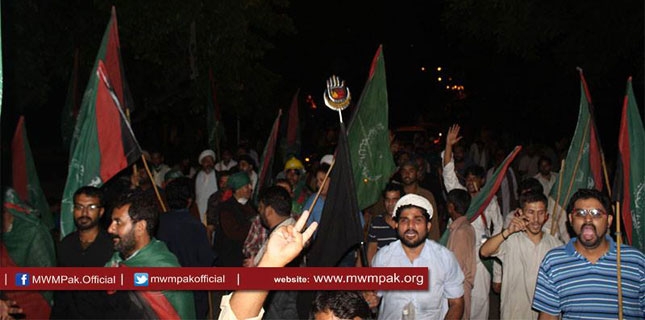 The Revolution March of Shia-allied parties finally reached outside Parliament House in the early hours of Wednesday and declared the participants as Public Assembly (Parliament).
Freedom March of Imran Khan-led Pakistan Tehreek-e-Insaf (PTI) also reached and protestors of both sides joined hands and now it is joint Opposition outside Parliament.
Shia-allied parties want change of system because of its flaws and incompetence that gave birth to continued rule of corrupt and incapable politicians. They want reforms and implementation on the Constitution altogether to make Pakistan a truly welfare state.
On top of physical barriers like hulking multistoried walls of shipping containers, which were literally brushed aside by the marchers in a matter of hours, large contingents of police, Frontier Corps, Rangers, and regular troops have been deployed to safeguard the key government buildings including the Parliament House of Pakistan.
Triple-1 Brigade
Pakistan Army's 111th Brigade is guarding Parliament House. Interestingly, this unit, also known as Triple-1 Brigade, is notable for its frequent involvement and fast response in military coups since Pakistan's independence. As of 11 January 2012, Brigadier Sarfaraz Ali is in command of this group.