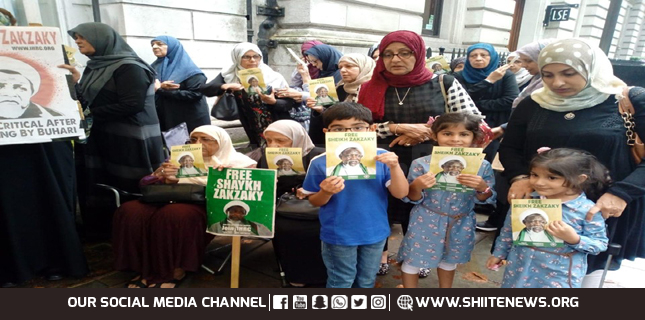 The supporters of Free Zakzaky Movement staged rallies and demonstrations across the world demanding Nigerian regime to release of Ibrahim Zakzaky and his wife immediately.
Most importantly, the protesters included the entire families, including grandpa, grandma, mothers, fathers, youth and children.
Let alone, Pakistan, the protesters also staged demonstration outside Nigerian diplomatic missions in Western countries too.
Moreover, they also registered their protest outside Nigerian diplomatic missions in UK and US.
Notably, the protesters were carrying banners and placards. They were also raising slogans demanding release of Islamic Movement of Nigeria's leader Ayatollah Sheikh Ibrahim Zakzaky forthwith.
Furthermore, they condemned Nigerian regime for violating the inalienable rights of Shia Muslims and persecuting them.
They slammed the pro-Israel and pro-Saudi Nigerian regime for not releasing Ibrahim Zakzaky and his wife even on medical advice.