Middle East
Dozens of Bodies of Syrian Army Soldiers Found in Mass Graves in Idlib Province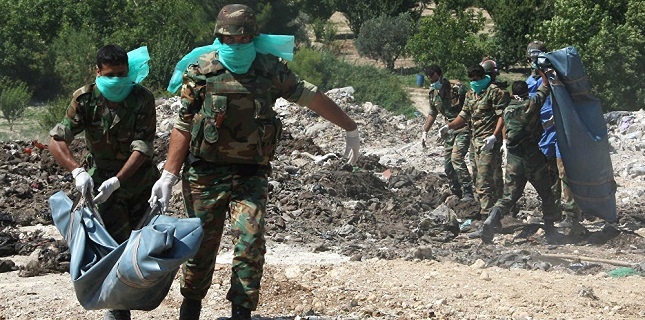 The Syrian Army units found the bodies of a number of soldiers in three mass graves in their mop-up operation in the newly-freed Abu al-Dhohour airbase in Southeastern Idlib, field sources reported on Tuesday.
The sources said that the army's engineering units continued their cleansing operation near Abu al-Dhohour airbase in cooperation with the country's Red Crescent in and outside the airbase and discovered the bodies of 45 Syrian soldiers killed by the Al-Nusra Front (Tahrir al-Sham Hay'at or the Levant Liberation Board) and buried in three mass graves.
The sources guessed that more bodies will be discovered in the airbase as the terrorists executed 71 soldiers when they once captured the military airport.
The Al-Nusra and other terrorist groups captured Abu al-Dhohour airbase in July 2015.
The Syrian Observatory for Human Rights (SOHR) reported last week that the army troops pushed terrorists back from 322 villages, towns and regions in a large region stretching among the provinces of Idlib, Hama and Aleppo in nearly a month of operation, killing almost 300 terrorists.
The SOHR reported that the army has freed 322 villages, towns and regions in 29 days of large-scale operation against terrorists in Southern Aleppo, Northeastern Hama and Southeastern Idlib.
It added that 297 terrorists, including 103 non-Syrians, from Al-Nusra Front, the Islamic al-Turkistani Party and other groups have been killed in the army operation in the three provinces.