Middle East
ISIL Terrorists Hidden in US-Backed Militants' Camp in Southern Syria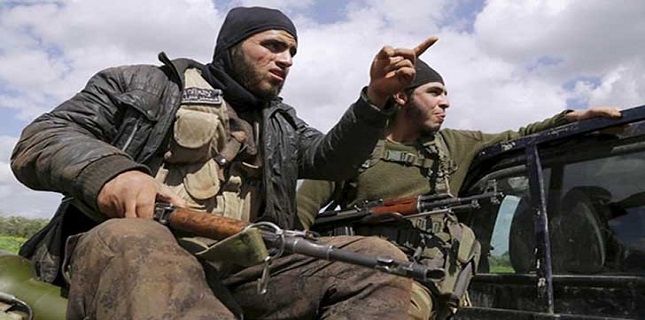 Peace and Security Coordinator in Homs province Haj Adel reported on Wednesday that the ISIL terrorists have been hidden in al-Rukban refugee camp that is under the control of the US-backed militants near the border with Jordan.
"According to our intelligence, a group of the New Syrian Army militants formed of the fugitive members of ISIL have arrived at al-Rukban camp in Southeastern Homs. In the meantime, refugees in the camp are forced to join the newly-formed army," the Arabic-language website of the Russia's state news agency, Sputnik, quoted Adel as saying.
Adel further told Sputnik that a number of non-Syrian terrorists are in al-Rukban camp too.
Russian Foreign Minister Sergey Lavrov said on Monday anti-terrorist missions should not be used to topple governments, adding that Moscow has been concerned by recent reports of the US training former terrorists in Syria.
"Attempts to profit from anti-terrorist objectives – which should be common, unified and without double standards – are disturbing," Lavrov told RT.
These objectives should not be used to promote one's own agenda, including "changing unwanted regimes," he stressed.
Speaking of Russia-US talks on military de-escalation in Syria, Lavrov underlined that he has "mixed feelings" about his Western counterpart's commitment to the Syrian peace process.
"(Secretary of State) Rex Tillerson used to tell me that the main goal of the US in Syria is defeating ISIL but now it is getting vaguer and vaguer," the minister said.
Instead, the forces are now said to stay in Syria until the start of the political process or, as some US officials claim, the process that involves the resignation of Syrian President Bashar Assad.
As Lavrov put it, "the information claiming that some US military bases in Syria have started to train militants, including former members of terrorist groups, is of course quite concerning."
Earlier in December, Russia's Reconciliation Center for Syria released a statement accusing the US-led coalition of creating the so-called 'New Syrian Army.' The group allegedly comprises remnants of ISIL, the Al-Nusra Front and other militants, and is based at a refugee camp in Northeast Syria. Local refugees, returning to areas freed from ISIL, say the refugee camp has been used by the coalition as a training ground for militants for at least the past six months.