Middle East
Moscow: 48,000 of Russian Troops Took Part in Syria Campaign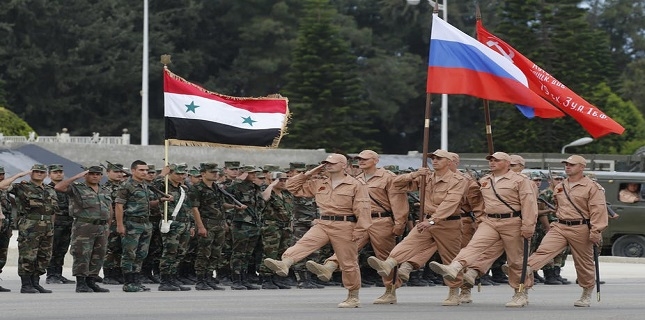 Russian Defence Minister Sergei Shoigu said on Friday that a total of 48,000 of Russian troops have taken part in Moscow's military campaign in Syria.
Russia has begun an aerial operation against the terrorists in Syria since September 2015 at Syrian President Bashar Assad's request, World News reported.
In September 2015, Russian bombers conducted their first strikes against terrorist targets in Syria, hitting ISIL positions near the cities of Homs and Hama.
Although Russia annihilated tens of thousands of terrorists in Syria, the country also suffered military losses.
The Russian military said late 2016 that the county's warplanes have conducted 71,000 airstrikes and killed at least 35,000 terrorists since the start of Russia's anti-terror campaign in Syria.
"Since the start of the operation, Russian jets have conducted 17,800 sorties, launching 71,000 strikes on terrorists' infrastructure, eliminating 725 training camps, 405 plants producing ammunition, 1,500 pieces of terrorists' military equipment, 35,000 militants, including 204 field commanders," Russian Defense Minister Sergei Shoigu said.
Shoigu also added that the Russian Aerospace Forces have destroyed over 700 terrorist training camps in Syria during its campaign.
The Russian General Staff also said April 2017 that an analysis has shown that the Russian Aerospace Forces have conducted four times more airstrikes than the US-led coalition despite having fewer aircraft.
"Comparative analysis of the results of activities by Russian aircraft and the international coalition's aircraft in Syria shows that having far fewer aircraft, the Russian Aerospace Forces carried out three times more combat sorties and made four times more missile and bomb strikes," chief of the Main Operational Directorate Col. Gen. Sergei Rudskoi said.
Rudskoi added that "the number of terrorist units has decreased, which allowed us to withdraw almost half of the aircraft based at the Hmeymim airbase."
In March 2016, the biggest part of Russian air forces left Syria in line with the decision of Russian President Vladimir Putin, following successful task fulfillment.
In December 2017, Putin ordered the withdrawal of Russian troops from Syria during his first visit to the country, as he arrived with no advance notice at Humymim Airbase in Syria's Lattakia province.