Middle East
Jeish al-Islam Selling Global Humanitarian Aid to ISIL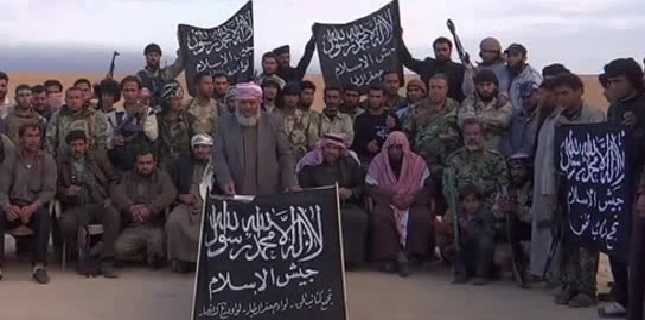 The Jeish al-Islam terrorist group in Eastern Ghouta of Damascus is selling ISIL the humanitarian aid sent to the Yarmouk camp, media reports said.
The Arabic-language al-Hadath news quoted a source in Yarmouk camp as saying on Thursday that based on an agreement between the two terrorist groups, a passageway will be opened to the Yarmouk camp to send the humanitarian aid to the ISIL.
The source added that the government forces had earlier closed al-Qadam passageway and forced the terrorist groups to block al-Aroubeh corridor as Jeish al-Islam and other terrorists smuggled the humanitarian aid sent to Ghouta and sold them at high prices to the ISIL in Yarmouk camp.
According to the report, trade exchanges between the terrorist groups in Ghouta and the ISIL are not merely confined to humanitarian aid and a number of them are also selling different weapons to the ISIL terrorists after a green light from their commanders.
In a relevant development on Wednesday, the Syrian army troops stormed the positions of two main terrorist groups in Eastern Ghouta and pushed them back from more lands, killing a senior militant commander, field sources confirmed.
The sources said that the army men engaged in fierce clashes with Ahrar al-Sham and Faylaq al-Rahman in Vehicles Management Region in the town of Harasta in several flanks and inflicted major losses on the terrorists, retaking control over a number of regions.
A number of terrorists, including notorious field Commander Saleh Antar, were killed in the clashes, the sources added.
The army soldiers imposed full control over lost the positions in the Vehicles Management Region in Harasta after their recent advances in the region.