Middle East
Haley threatens to bypass Security Council in dealing with Syria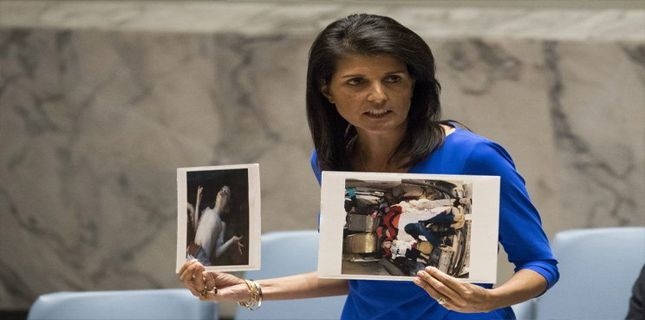 The United States threatens to take "its own action" in dealing with Syria, citing the United Nation's failure in dealing with crisis in the war-ravaged Middle Eastern country.
US Ambassador to the United Nations Nikki Haley made the comments during an emergency meeting of the Security Council over an alleged chemical attack in Syria.
"When the United Nations consistently fails in its duty to act collectively, there are times in the life of states that we are compelled to take our own action," Haley stated.
She further blamed the crisis on the Syrian government, Russia, and Iran.
"Time and time again Russia uses the same false narrative to deflect attention from their allies in Damascus. Time and time again, without any factual basis, Russia attempts to place blame on others. There's an obvious truth here that must be spoken. The truth is Russia, Assad, and Iran have no interest in peace," the American envoy claimed.
Haley further questioned Moscow's influence in the Muslim country, suggesting that Russia should pressure Damascus over the alleged chemical attack in Syria's northwestern Idlib province on Tuesday.
During the Wednesday emergency meeting at the UN Security Council, the US allies also echoed Haley's remarks.
"Our draft resolution condemns his attack and calls for consequences. All 15 Security Council members should be able to condemn this and every use of chemical weapons," said Matthew Rycroft, the UK representative to UN.