Middle East
40 bodies removed from mass grave in Syria's Palmyra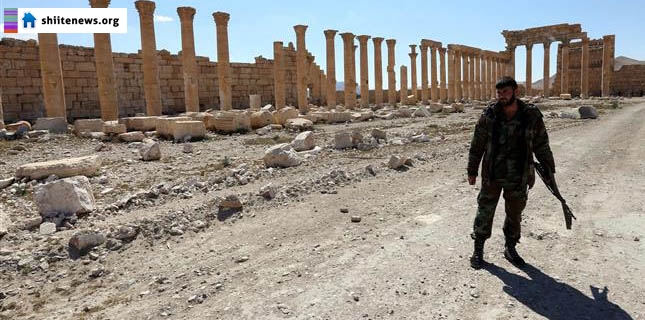 Shiite News: Syrian forces have found 40 bodies in a mass grave in the central city of Palmyra, which was recently liberated by the forces from the Takfiri Dash terrorist group.
An unnamed field source had earlier put the number at 25, and said that three children and five women were among them, Syria's official SANA news agency reported on Friday.
The source, however, later revised the figure, saying that 15 more bodies, all of them being those of women and children, had been found.
The Syrian forces continue to excavate the grave, which was discovered by the engineering units and Syrian popular forces, the source said, adding that some of the those buried had been beheaded and others had signs of brutal torture on them.
Palmyra had fallen to Daesh last May. The Syrian army, backed by popular defense groups and a Russian aerial campaign, recently regained control over the city after some four weeks of fierce fighting with Daesh.
The Syrian soldiers have now been clearing bombs and landmines planted in Palmyra by Daesh.
Syrian officers said they have so far detonated 500 mines in Palmyra's urban areas while the number of those undiscovered remains unknown.
"They planted two to three mines together every 100 meters. The mines were laid to impede the advance of the government force," said Munzer, a commander of the Syrian army.
An unidentified Syrian field general said the road to the Western city of Homs is 100 percent safe, but the other roads such as those leading to the town of Sukhnah and the city of Dayr al-Zawr need to be cleared from mines.
Meanwhile, Syria's antiquities chief Maamoun Abdelkarim said the full extent of damage in the ancient city could take weeks to establish because of the mines laid amid the ruins.
The Syrian army has vowed to press ahead with its counter-terror military operations and drive Daesh elements out of their major strongholds in the conflict-ridden Arab country.
Syria has been gripped by militancy since 2011. According to a February report by the Syrian Center for Policy Research, the conflict in Syria has claimed the lives of over 470,000 people in total.