Middle East
UN praises Syrian government victory in Palmyra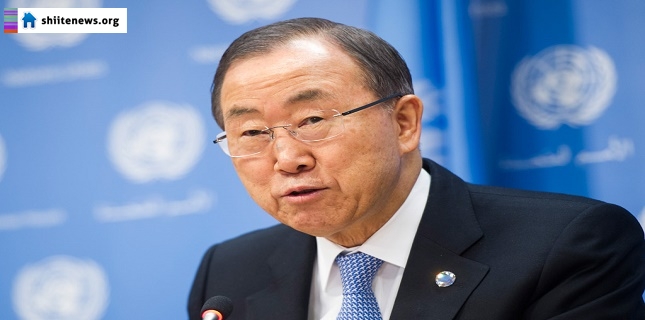 UN Secretary General Ban Ki-moon has welcomed the Syrian army's recapture of Palmyra from Daesh terrorists, expressing hope that the Damascus government will try to rebuild and protect the UNESCO-listed city.
Addressing a press conference in the Jordanian capital, Amman, Ban said "the extremist terrorists, they have been not only killing brutally people, they have been destroying human civilizations."
"We are encouraged and fortunate" that Syrian soldiers regained control of Palmyra, said the UN chief, stressing he was also encouraged that Syria's government "will try to not only preserve and protect, but try to restore" the site.
'Russia to stand by Syria'
In another development, Russian President Vladimir Putin offered felicitations to his Syrian counterpart Bashar al-Assad on the liberation of the ancient city of Palmyra after weeks of army operations against Daesh terrorists.
"In a conversation with the Syrian president, Vladimir Putin congratulated his colleague on Syrian forces liberating the city of Palmyra from terrorists, noting the importance of preserving this unique historic city for world culture," Kremlin spokesman Dmitry Peskov said.
Putin added that his country's armed forces would continue to assist the Damascus officials in the battle against terrorism and help them "rid their land from extremist groups" despite the partial pullout of Moscow's military contingent from Syria.
During the conversation, the Russian leader also emphasized "the importance of preserving this unique historic city for world culture," Peskov added.
Assad, in turn, "praised the help given by the Russian space and air forces," stressing that "successes such as the liberation of Palmyra would be impossible without Russia's support," Peskov added.
In a separate phone call, Putin also exchanged views with UNESCO chief Irina Bokova about the fate of Palmyra, according to the Kremlin official.
Following four weeks of military operations against Daesh, Syrian forces, backed by popular defense groups and Russian air cover, wrested back control of Palmyra in the western province of Homs on Sunday.
The Russian Defense Ministry said its military aircraft had hit nearly 160 Daesh targets near Palmyra over the past day in support of the Syrian army forces advancing on the historic city.
Earlier in the day, Assad said the victory in Palmyra shows the success of the army's strategy in its battle against terrorists.
The Syrian army also vowed in a statement to step up their anti-Daesh offensives on various fronts "on top being Dayr al-Zawr and Raqqah," two provinces in Syria's east and north, respectively.
The London-based monitoring group also described Palmyra's liberation as one of Daesh's biggest defeats since it took control of swathes of land in Syria and neighboring Iraq some two years ago.