Middle East
Syrian Army Expunges Terrorists' Vehicles in Aleppo, Retake Areas in Daraa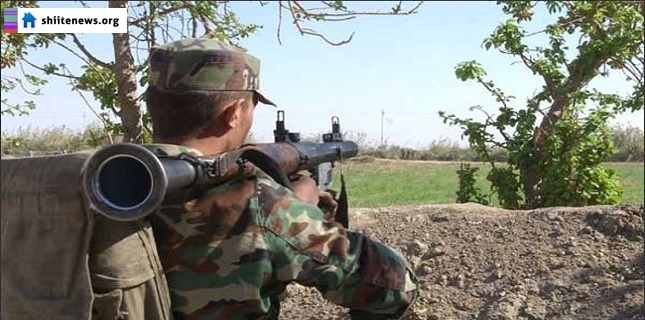 The Syrian army troops have destroyed terrorists' vehicles, their hideouts, positions and dens in Aleppo and regained areas in Daraa.
Aleppo
An army unit destroyed two terrorist organizations' vehicles , one equipped with heavy machine-gun in the village of Tal Msaibeen in the northern countryside of Aleppo province in parallel with targeting terrorists' supply routes in the towns of Haritan and Anadan.
A military source told SANA that another army unit inflicted heavy losses upon terrorist organizations in personnel and equipment after targeting their hideouts in al-Ameriyeh village in the southeastern countryside of the province.
In Aleppo city, an army unit destroyed Jabhat al-Nusra and other terrorist organizations' hotbeds and movements in the neighborhoods of the Old and the New sections of the city.
ISIS in Iraq and Syria terrorists' gatherings and their heavy machineguns-equipped vehicles were destroyed in the army continued operations against their positions and movements in the villages of Aisheh, Nejarah, Abu
Jebarah al-Kabirah and Ein al-Baida in the northeastern countryside of the province.
The terrorists' social media websites stressed the killing of Jabhat al-Nusra vocalist nicknamed Abdel-Razaq al-Hamad.
Daraa
A military source confirmed that Army and Armed Forces units inflicted heavy losses in personnel and equipment upon terrorist organizations in al-Sheikh Miskeen city in Daraa province.
The source said in a statement to SANA that army units launched on Monday morning a military operation in al-Sheikh Miskeen area, with the army establishing control over several points inside the city and its surroundings.
The source pointed out that the operation is still ongoing in al-Sheikh Miskeen, which is located 22 kilometers to the north of Daraa city, and that it will continue until all pockets of terrorists in it are eliminated.
Most of the terrorists in the city are from Jabhat al-Nusra, "al-Muthanna movement," and "Ahrar al-Cham Movement" terror organizations.