Middle East
Syrian Army, Hezbollah Storm Militants in Quneitra, Kill Dozens, Retake Tal-Ahmar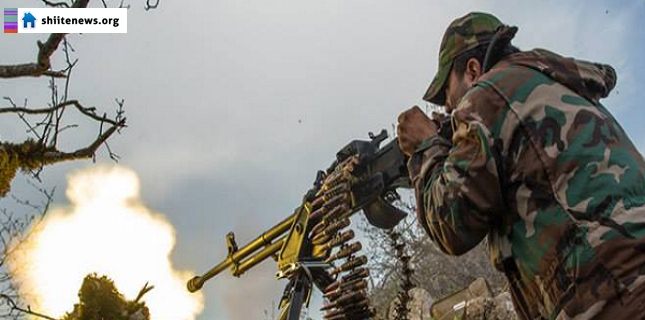 Military sources in Quneitra informed on Tuesday that the Syrian army and the Lebanese Hezbollah have taken a heavy toll from the terrorist groups and recaptured Tal-Ahmar hill in a major joint offensive in the Southwestern province.
The sources said that the Syrian soldiers stormed the positions of the militant groups in the nearby areas of Tal-Ahmar and retook full control over this strategic hilltop.
The sources further added that scores of the militant groups' members were killed or wounded in the Tal-Ahmar liberation operation. Tal-Ahmar went under militants' control only two days ago.
Meantime, the Syrian army and the Hezbollah Movement carried out another operations against the strongholds of the militant groups in Ayn al-Nuriyeh area in Quneitra province.
Elsewhere, Hezbollah fighters targeted a long convoy of the so-called Free Syrian Army's (FSA) vehicles loaded with weapons and ammunitions near al-Hamidiyeh in Quneitra, killing and wounding tens of the FSA forces.
Reports said on Thursday that the Syrian army backed by the popular defense groups destroyed hideouts and vehicles of al-Nusra Front and other Takfiri terrorist groups in the Northern countryside of Quneitra.
The army targeted the Takfiris' positions in military operations on Wednesday night and Thursday, reports said.
A group of terrorists were killed and injured in the military operations against positions of al-Nusra Front and other terrorist groups in the villages of Jibbata al-Khashab and Tranjeh. One of the militants' ammunition depots was also destroyed.
Meanwhile, the army destroyed three heavy machinegun-equipped vehicles belonging to al-Nusra terrorists, and killed all terrorists onboard in a military operation to the East of Tranjeh village.
The terrorist groups acknowledged on their social media pages that a number of their members were killed, including terrorist Shadi Yousef Sharaf.