Middle East
Hezbollah, Syrian Army Restore more Blocks in Zabadani, Tighten Noose on Gunmen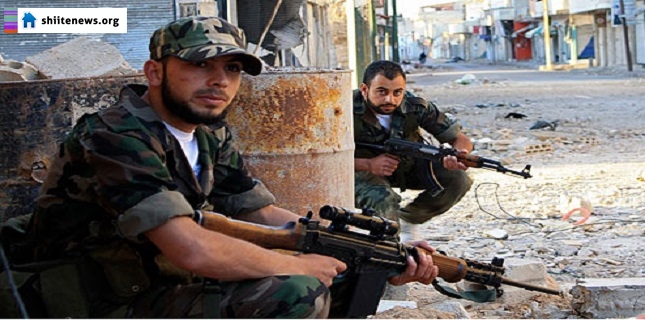 The Syrian army on Thursday continued to raid the terrorist organizations' hideouts, positions and supply routes in many areas across the country, killing and injuring scores of their members and destroying their weaponry, state-run SANA news agency reported.
In Damascus countryside, Hezbollah fighters and the Syrian military units continued their advance in al-Zabadani city and established control over 20 new building blocks near al-Nabou' and Ein Himma, leaving dozens of terrorists dead and injured, and destroying their weaponry and munitions, including a 23-mm machinegun, SANA said citing a military source.
Furthermore, Hezbollah military media said that the Lebanese Resistance and the Syrian army forces managed to restore the surroundings of Al al-Bait (AS) Mosque at al-Adimeh street coincided with establishing control over a number of building blocks in the vicinity of al-Rahma Mosque in al-Nabou' , north of the city in addition to destroying a vehicle equipped with 23 mm machinegun.
Meanwhile, terrorist organizations acknowledged on the social media pages of killing a number of their members including, Hasan Qasem al-Teinawi.
In the countryside of the southern province of Daraa, an army unit killed a number of terrorists and injured others in a special operation against their hideouts and gatherings in the western neighborhood of Busra al-Sham city to the southeast of Daraa city.
To the north of Daraa city, another army unit killed all members of terrorist group as it targeted their gatherings in Atman town.
In Quneitra, the army units, aided by the popular defense groups, clashed on Wednesday night with armed terrorist groups, which attempted to infiltrate into Kroum al-Humriyeh in the village of Hadar and the western area of Khan Arnabeh town in the countryside of the southern province.
Field sources told SANA Thursday that the clashes resulted in the killing and injuring of a number of terrorist groups' members, mostly from al-Nusra Front, and the demolishing of their weapons and ammunition.
The sources added that army units carried out concentrated blows against terrorist organizations' hideouts and movement axes in the villages of al-Hamidiyeh, al-Huriyeh and Ovania.
The army blows resulted in the killing and injuring of a number of terrorists and the destruction of their supply routes and a bulldozer.
In the coastal Lattakia province, an army unit eliminated a terrorist group of 19 members and destroyed their ammunition and weapons in the surroundings of Burj al-Rahmaliyeh in Rabi'a area in the northern countryside of Lattakia, according to the military source.
SANA reporter quoted field sources as saying that another army unit killed two terrorists in the surroundings of Salma town while they were trying to pull dead bodies of their killed colleagues and their weapons.
The unit also clashed with a terrorist group in Zahiyeh Mountain, leaving two of its members dead and others injured, in addition to seizing their weapons and ammunition.
In the neighboring Idleb province, the Army's air force carried out airstrikes against terrorists' gatherings in Maaret al-Numan, Ihsim, the area surrounding Ariyha, Kafr awid, Maarata, Kansfra, Jisr al-Shougor, Bismas, Jozf, frika al-Mastoma and al-Ziadia in the southern countryside of Idleb.
The airstrikes caused the destruction of terrorists' vehicles and ammunition in addition to the killing of many terrorists.
The Army's airstrikes also targeted terrorists' gatherings in Abu al-Dohour, Um Jrin, al-Majas, Tal Salmo, al-Tiraa and Sarakib in the southeast countryside of Idleb, killing many terrorists.
To the northeast of Idleb city, many terrorists were killed or injured during army's airstrikes against their hideouts and gatherings in Ram Hamdan, al-Soagia and Binsh.
Army units targeted gatherings and dens of "Jabaht al-Nusra" in Kansafra, Maaret al-Numan city, Sfohn, Tramla and Kafr Zita.
The operations resulted in the destruction of terrorists' den, killing more than 18 terrorists and injuring 15 others. Khaled al-Abboud, a leader of a terrorist group, and Mohamed al-Jamal were identified among the dead.
In Aleppo, army units inflicted heavy losses upon terrorists of the so-called 'Islamic State of Iraq and the Levant' (ISIL) and al-Nusra takfiri group in Aleppo.
In the eastern countryside of Aleppo, the forces defending the Air Force Academy clashed with terrorists from ISIL organization in the area surrounding the academy, according to a military source.
The clashes resulted in killing a number of terrorists and destroying vehicles equipped with heavy machine guns.
In the western countryside of Aleppo, army units targeted with artillery the supply lines of Takfiri terrorist organizations, inflicting heavy losses in personnel and munitions upon al-Nusra Front and the so-called al-Jabha al-Shamiya.
The terrorists suffered the heaviest losses in Injara town and Daret Aza city 30 kilometers to the west of Aleppo.
In Hama, the army's air force targeted gatherings of terrorists from "Jaish al-Fateh" in al-Mansoura, al-Ziyara, al-Inkawi, Qastoun, al-Hwash, al-Amkia, al-Kahira and Shahshabo Mountain in Hama countryside, destroying their dens and vehicles.
The Army also launched two airstrikes against terrorists' hideouts in al-Latamina and Kafr Zita, killing many terrorists, injuring many others and destroying their weapons.
An army unit eliminated 3 members of "Jaish al-Fatah" in the eastern part of al-Ghab plain.
Ahmad al-Rayan and Majid Abu Ramadan were among them.
An army unit in cooperation with popular defense groups had clashed with a terrorist group in Jbibat al-Assi village, killing many terrorists and inuring many others.