Middle East
Syria: Army Liberates Several Areas in Eastern Ghouta, Douma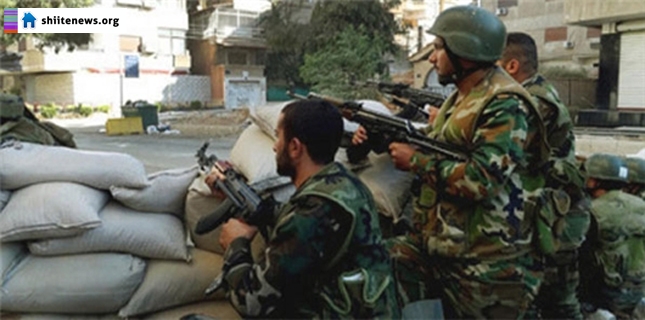 The Syrian army continued its advances in Eastern Ghouta and Douma town, and liberated three strategic towns in the region.
The army regained control of Alia Farms, Al-Sheyfounieh and the Western part of Tal Kurdi in the surrounding areas of Douma town in Damascus countryside.
Meantime, the Syrian army's artillery units destroyed the terrorists' positions in Ain Tarma. The Jasrin and Zobdin regions were also the scenes of sporadic clashes between the army and the terrorists.
Also, the Syrian army units destroyed an important military base of the terrorists in the town of al-Zabadani near al-Mohateh in Al-Qalamoun region in Damascus province.
The artillery units also targeted the terrorists' positions in Jebel district in al-Zabadani, Mazaya and Sarghya.
Meantime, a large number of terrorists were killed in fierce clashes in the villages of Eastern Ghouta.
Alia farms, North of Douma, witnessed fierce clashes that resulted in the killing of tens of terrorists, while army soldiers targeted militants' strongholds in the center of Douma.
Syria has been grappling with a deadly crisis since March 2011. The violence fueled by Takfiri groups has so far claimed the lives of over 200,000 people, according to reports. New figures show that over 76,000 people, including thousands of children, lost their lives in Syria last year.Iranian Speaker: Israel Should Fear Nasrallah's Ultimatum