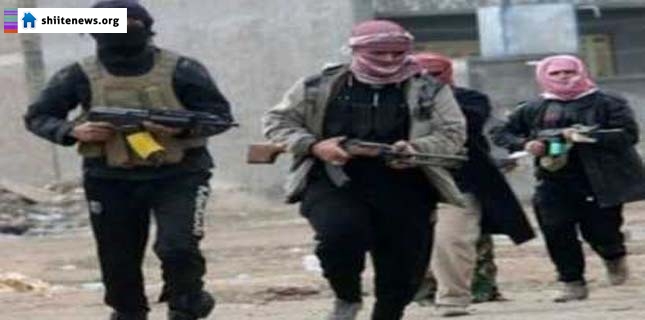 ISIL Takfiri terrorists have put 50 people to death in Syria since the beginning of the year for allegedly spying, being enemy combatants and other reasons, a UK-based monitoring group says.
The executed were mostly killed by beheading or shooting, said the so-called Syrian Observatory for Human Rights on Wednesday.
On Tuesday, ISIL released a video online showing the Takfiri terrorists burning Jordanian pilot, Moaz al-Kassasbeh, who was taken hostage in December.
The pilot was seen dressed in an orange jumpsuit and surrounded by flames of fire inside a metal cage.
Kassasbeh was captured by ISIL on December 24, 2014, after his F-16 jet crashed while flying over northern Syria on a mission against the terrorists.
Last month, the militant group also released video footage purportedly showing the execution of Japanese prisoner Kenji Goto.
The group released a video on Saturday showing Goto's decapitation. The footage shows Goto kneeling, dressed in an orange outfit. A masked man standing beside him with a knife blames the Japanese government for his "slaughter".
In another video posted online last month, ISIL militants showed the Japanese captive holding the photo of a dead body allegedly belonging to Haruna Yukawa, another Japanese hostage that had been captured by the ISIL Takfiri terrorists.
Other groups have also executed captives; the al-Qaeda-linked al-Nusra Front executed six people while some 20 others were put to death by other militant groups.
Syria has been grappling with a deadly crisis since March 2011. The violence fueled by Takfiri groups has reportedly claimed the lives of over 200,000 people so far. New figures show that over 76,000 people, including thousands of children, lost their lives in Syria last year alone.
The Takfiris control swathes of land in Syria and Iraq and have been carrying out horrific acts of violence such as public decapitations and crucifixions against all communities such as Shias, Sunnis, Kurds and Christians.