Featured
Middle East
Syria's liberation, close ties with allies high on Assad's agenda in new term: Aide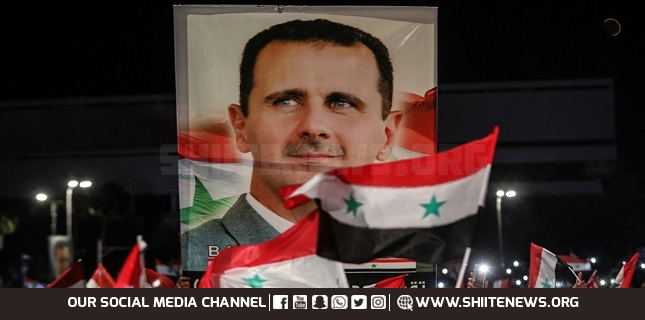 A senior aide to Syrian President Bashar al-Assad says the liberation of the country from occupation and the reinforcement of relations with allies are among the priorities of the head of state during his new term in office.
Bouthaina Shaaban, Assad's political and media adviser, made the remarks in an interview with Lebanon's al-Mayadeen TV channel on Wednesday, one week after Syria held a presidential election, in which Assad won re-election with 95.1 percent of the votes on a turnout of around 78 percent.
She said the presidential poll demonstrated the people's will and the failure of US policies.
Syrian nomads challenged separatist groups, namely the Kurds affiliated to the United States, as they participated in the election, she added.
Assad presented a new definition of the concept of revolution, she stressed, noting that "the Syrian nation is leading a revolution against terrorism, betrayal and corruption."
"In addition to strengthening ties with allies, liberating the occupied Syrian territories is Assad's priority in the next phase," Shaaban said.
Before the May 26 vote, the foreign ministers of France, Germany, Italy, Britain and the US claimed that Syria's presidential election "will neither be free nor fair."
Assad's aide said certain countries' position regarding their non-recognition of the election in Syria "is an issue that has nothing to do with us."
Touching on measures by some countries to sever relations with Syria, she said, "The Arab states that boycotted Syria should opt to re-establish relations … and we will evaluate the issue based on the interests of the Syrian nation."
Palestine and Syria are in solidarity with each other, and the Syrian resistance has been reflected in Palestine, Shaaban said. The Gaza war last month raised the Syrians' morale as it showed that "everything which has been taken by force can only be taken back by force."
Syria has been gripped by foreign-backed militancy since March 2011, with Western states and their regional allies aiding Takfiri terrorist groups that are wreaking havoc in the Arab country.
Syrian government forces, backed by Iran and Russia, have managed to win back control of almost all regions from militants.